4 Hints on How to Choose a German Name for your Child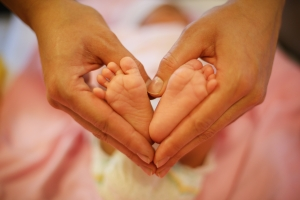 Choosing a name for your precious bundle of joy is a tough task for anyone, but is even harder if you're part of a multicultural family or you're raising your child in another country. If you and your partner are trying to find a compromise between American names and German names, it shouldn't be too hard. Popular German first names, or Vornamen, are usually quite traditional and are often Biblical or Germanic in origin. There may be some difference in pronunciation, but more often than not you'll recognise today's popular German names as being nearly identical to names in the English language.
Within the Law
Before you begin choosing a name, remember that if you're moving to Germany before the birth, the name you choose for your baby needs to be approved by your local Standesamt. The name needs to meet two conditions: that it reflects your baby's sex and that it won't have a negative effect on the well-being of your child. The second condition means that if you use a non-German name, you may have to prove that it's a common name in your country of origin. It's because of these rules that the most popular German names are quite conservative.
The Modern Way: Ben and Mia
Ask someone to give a German name and they will likely say something like Hans or Frieda. But the most popular names in Germany in 2012 for boys and girls were Ben and Mia, followed by Emma and Luca/Luka. As you can see, there's nothing very radical about these names, but neither do they sound all that German. There appears to have been a move away from more traditional German names in recent years. Other names that have been popular over the last few years include girls' names Hannah, Leoni and Leah and boys' names Finn/Fynn, Felix and Louis/Luis.
The Very German Traditional Way
Now we get to the Hanses and Friedas. If you're thinking of going with a more traditional name for your baby, there are plenty of names that look and sound as you would expect a German name to. Some popular names since the end of the 19th century include Marta, Gertrude, Ingrid and Katrin for girls and Günter, Klaus, Andreas and Jan for boys.
The Less German Traditional Way
If you want your child's name to both represent their German roots and fit in with their American friends, or perhaps represent their American roots and fit in with their German friends, there are lots of names that are or were traditionally popular in Germany with American equivalents. Many of these are Biblical names, which tend to have their own versions in languages all over the world. Some names that have survived for centuries and would fit with either a Germanic or Anglo surname include Anna, Marie or Maria and Elisabeth. For boys there's Paul, Max, Peter and Thomas.
Raising a child in a bilingual household can be tough too. Working on your German before your bilingual baby to be is born is a great idea and will give you another way to connect to your child. Does your child have a German name? Or has this list help you decide on one? Let us know in the comments section below!