5 Brilliant Brazilian Drinks–Just in Time for the #WorldCup!
If a vacation to Brazil is on your radar for this year, you're probably focused on important things like making an itinerary, choosing your accommodations, and brushing up on your Portuguese. And while all of these are critically important, I've got another suggestion for you: Why not make a checklist of tasty drinks you'll want to try during your trip to the sunny, tropical country? From alcohol-laced cocktails to sugary sodas and lots more, there is a variety of delicious liquid delights you won't want to miss while vacationing in Brazil:
1. Caipirinha
Kick off your trip on a high note by getting your hands on a caipirinha as soon as you can upon your arrival. Brazil's national cocktail is made simply with cachaça–a sugar cane liquor–sugar, and lime. It's so good that once you've tried this refreshing drink you'll question why anyone would ever need more than a handful of ingredients for an out-of-this-world cocktail. Make sure you drink it with a straw as the sugar sinks to the bottom and the straw helps you get to it.
2. Caipifruta
This fruity take on the famed caipirinha is perfect for those who like their drinks on the extra-sweet side. Cachaça is mixed with crushed fresh fruit and ice to make a bright-colored drink that could almost be called a South American sangria. Pineapple, passion fruit, mango, and cashew fruit are some of the most popular variations available.
3. Skol
Those in search of a cold one will find plenty in Brazil, especially light-colored lagers, which are the general favorite throughout South America. Skol is the top-selling beer in the country and while beer aficionados, spoiled by the popularity of the craft brewing movement they haveback home, may not be impressed with its simple flavor profile, it will certainly hit the spot while you're lying on the beach and getting some sun.
4. Quentão
Those who land at a high elevation or just find themselves looking for a warm drink during their Brazilian vacation will want to try the hot toddy-like drink known as Quentão. In case your Portuguese is lacking, that roughly translates to "big hot one." The traditional recipe includes cachaça or wine, plus hot water, sugar, citrus peels, and a variety of spices, including cinnamon, ginger, and cloves.
5. Guarana Antarctica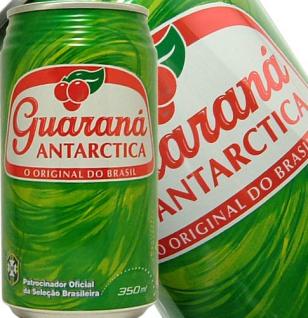 Lastly, if soda's more your style than mixed drinks, not to fret, you'll have your choice of many canned and bottled options in Brazil. The ever-present Guarana Antarctica has a sugary, berry-infused flavor that might remind you of ginger ale. While there are literally dozens of locally produced guarana-infused sodas to try, this mainstay has been around for nearly 100 years and is available across the country, so visitors looking for a fizzy drink can't go wrong. Interestingly, guarana is a key ingredient in many energy drinks that you'll find in every grocery and corner store across the U.S.
Ready to give your taste buds a shot of flavor and excitement? Brazil is the perfect place to do it, so get your Portuguese skills in shape and get ready to drink your way through this lively country. If you need a little help with your language ability, be sure to contact us and learn about classes and one-on-one instructional opportunities near you. Just back from a Brazilian vacation and want to add to our list of not-to-be-missed Brazilian drinks? Be sure to share your suggestions in the comments below.