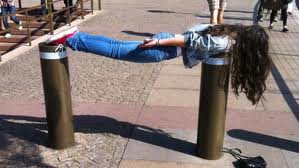 2011 has been a very eventful year, and it's reflected in Time magazine's Top 10 buzzwords of the year.
Their number one word is "occupy", with this summation:
In 2011, occupy became this generation's sit-in, a word connoting peaceful but uncompromising objections to the status quo.
The other words that made it into their top five are:
2. Winner/winning (in honour of Charlie Sheen)
3. Planking (see photo)
4. Carmageddon (what was supposed to happen when part of one of LA's highways closed)
5. Super PAC ("super PACs are committees that can spend unlimited amounts of money in elections to support or oppose candidates — as long as they do it independently")
See the rest of the list over at Time magazine.