Children's language development may be helped by singing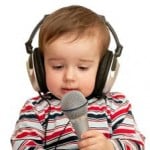 A new book claims that parents should sing to their children to avoid language development problems in later life.
The book, called The Genius of Natural Childhood, is by Sally Goddard Blythe, a consultant in neuro-developmental education and director of the Institute for Neuro-Physiological Psychology. Blythe says that singing to, and later with, your child uses and develops both sides of the brain and helps their ability to communicate.
Singing traditional lullabies and nursery rhymes to babies and infants before they learn to speak, is "an essential precursor to later educational success and emotional wellbeing", argues Blythe in a book. "Song is a special type of speech. Lullabies, songs and rhymes of every culture carry the 'signature' melodies and inflections of a mother tongue, preparing a child's ear, voice and brain for language." Blythe says in her book, The Genius of Natural Childhood, to be published by Hawthorn Press, that traditional songs aid a child's ability to think in words. She also claims that listening to, and singing along with rhymes and songs uses and develops both sides of the brain. "Neuro-imaging has shown that music involves more than just centralised hotspots in the brain, occupying large swathes on both sides," she said.

Growing numbers of children enter nursery and school with inadequate language and communication skills, according to the National Literacy Trust, often because their parents have not helped them develop communication skills. Blythe believes that singing to and, later, with a child is the most effective way to transform their ability to communicate.

"Children's response to live music is different from recorded music," she said. "Babies are particularly responsive when the music comes directly from the parent. Singing along with a parent is for the development of reciprocal communication." (Source: The Guardian)
I think this can also be true for learning a new language – I've found that words and phrases I've heard in simple songs are easier to recall than ones I've learned through speaking and repetition. I'm not sure that, as an adult learner, your parents will be quite so useful though!