How Chinese Activists Communicate Under 25 Years of Censorship Over Tiananmen Square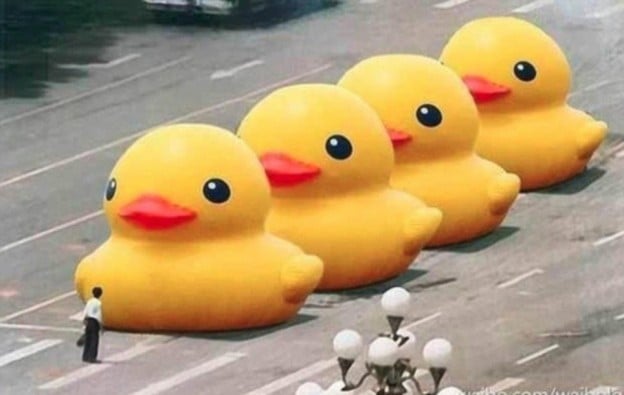 Twenty five years ago today, the Chinese government deployed 200,000 troops to suppress pro-democracy demonstrators at Tiananmen Square, resulting in the massacre of an estimated 500 to 2,500 people, most of them young students.
Tank Man
Even if you are too young to remember the incident, you'll probably recognize the iconic
Tank Man photo
, simultaneously heartbreaking and courageous. What you may not realize is that censorship of this issue in China has been so effective that some of the country's younger citizens have no idea the massacre even took place. It may seem impossible to hide historical facts in today's digital age, but consider that the search term "Tank Man" is censored on Chinese search engines. Over 100 more banned search terms have been identified by the
China Digital Times
. All the "sensitive terms" on the Chinese internet are being tracked via this
publicly accessible, multi-lingual spreadsheet
in Google Docs. When even essential words like "tomorrow" and "today" are deemed sensitive terms, purportedly because they would allow for time-sensitive coordination by dissenters, Chinese pro-democracy activists must continually develop new codes to communicate solidarity.
Great Fire Wall
Just this week, China
blocked access
to Google, Gmail and all associated image and translation services. Meanwhile, Google's image search results have been
censored in China for years
. Social sites like Sina Weibo, the Chinese equivalent of Twitter, are censored too, but users are
finding their way around
the government's security system (known as the Great Fire Wall) using special unblockable mobile apps and mirror sites. Last year,
Sina Weibo removed the candle emoticon
for a few days in advance of the Tiananmen anniversary, a meaningful omission as that symbol is often used to honor the dead.
Hacking Language
To harness the power of social media under extreme governmental constraints, activists have developed a kind of "hack language," which simultaneously conceals and reveals true meaning. References to forbidden subjects in image and text, what's said and not said, highlight the ingenuity of human beings to make their intentions known. Code words for Tiananmen Square range from impenetrable and concise to obscure yet evocative. "May 35th," an impossible date, smartly addresses a day that cannot be discussed. The powers that be have already banned all possible combinations of relevant numbers, including simple arithmetic such as "63+1" or "65-1", which equal 64, signifying 6/4 and corresponding to June 4th. Similarly, "Big Yellow Duck" refers to a satirical picture, in which the original Tank Man image has been "photoshopped" so that he stares down four giant rubber duckies. The picture is code personified - what cannot be spoken about hidden in plain sight. The image portrays the action of censorship while actively censoring itself, becoming an emblem for the activists' cause, the words, "Big Yellow Duck," a rallying call.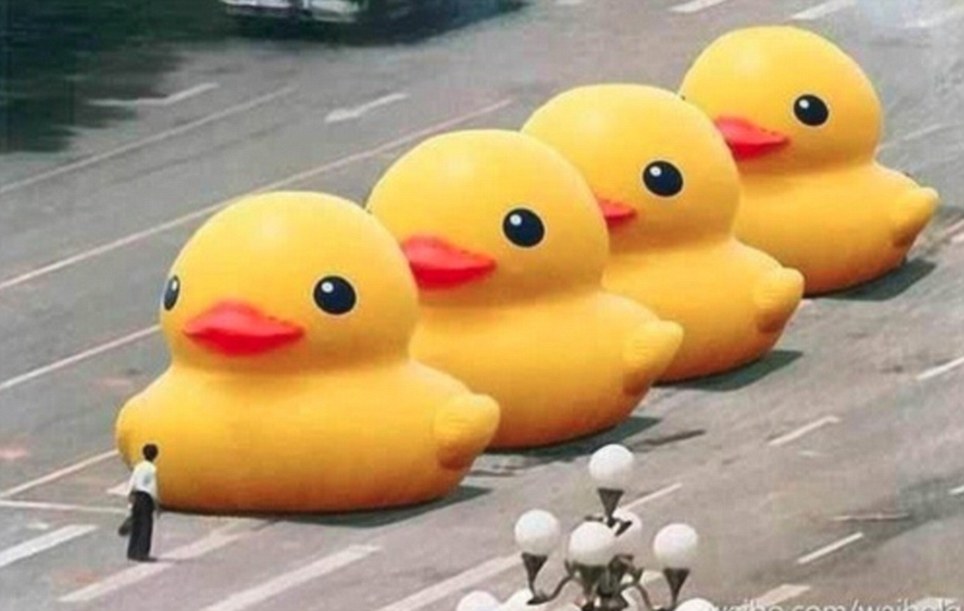 Blogging Code
Many of these activists are
operating outside of China
for obvious reasons. Check out the documentary,
High Tech, Low Life
, to get a sense of how they endure. This photo, posted yesterday on Instagram may have been planned in advance to get around new censorship measures. If so, this most amazing post illustrates how a visual vocabulary has emerged to pass invisibly through the text analysis engines of the Great Fire Wall. The photo shows the numbers associated with the date 4th June, 1989 (in reverse order for Westerners), while the Ace and King cards actually allude to the weapons used in the massacre: AK-47s. Today, protesters have planned to gather in Tiananmen square to sing or hum the tune to
this song from Les Miserables
, according to the
LA Times
. Meanwhile on Twitter, that fateful day in 1989 has
been recreated moment by moment
as if it were happening live, right now. So, if you don't have to sing for your dinner today, count at least one of your lucky stars.