Shiver me timbers – it's International Talk Like A Pirate Day!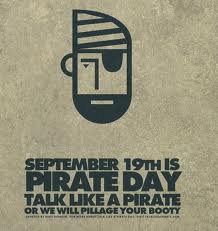 Why not take a break from your serious language learning today – and celebrate International Talk Like A Pirate Day!
If you've never heard of this most amusing of days, then read this history for more information. Then head over to check out the vocabulary (in English, German or Dutch) or this video and get speakin like a pirate – arrr!
For those who are won over by pirate speak and want to incorporate it into their everyday life, you can search like a pirate with Google, Twitter like a pirate with this tool and change your Facebook language to English (Pirate) too. There's even a pirate guide to parenting if you want the younger generation to follow in your footsteps.