Why the Super Bowl is the Super Bowl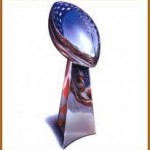 Little bit behind this on this, since the Super Bowl happened last weekend, but at least we'll all be prepared with some trivia for next year!
Over at the Boston Globe, Erin McKean has investigated why the Super Bowl is called the "Super" rather than the "Totally Awesome Game that Lots of People Watch" (I know, that's not very catchy). Apparently it was originally called something different:
The Super Bowl originally had a more prosaic name: The first two games were officially called the "AFL-NFL Championship Game," with "Super Bowl" becoming official with the third game in 1968. (The Roman numerals didn't show up until the fifth Super Bowl game, in 1970.) The name "Super Bowl" is credited to Lamar Hunt, the owner of the Kansas City Chiefs and the founder of the American Football League, who said he took the name from his daughter's Wham-O Super Ball toy. (The word bowl used for football games most likely comes from the bowl-shaped Yale Bowl stadium.) (Source: Boston Globe)
So now you know: the Super Bowl was named after a toy!