ONLINE GERMAN LESSONS
Whether you're planning to move to a German-speaking country, do business with Germany, or have to sit for an important exam and need some support, we are here to help. Reach out to us at Listen & Learn and we will design a program for you to become fluent in German in a fun, interactive way!
Our tutors are professional native speakers of the language who will carefully prepare your classes, assessing your level of proficiency, and taking into consideration your preferences. Do you want to improve your comprehension of the language and build up your vocabulary using intriguing series, like Dark? No problem! Are you interested in music and want our teachers to plan your lessons around amazing bands, like Rammstein? We do what is necessary to ensure you enjoy your online language course as much as possible.
What will you learn with us?
Enroll in one of our online German courses today and soon you'll be able to communicate with almost 100 million German speakers living in Europe and worldwide. No matter where you are based or what your proficiency level is, we have a course for you. If you've never studied German before, you will get started with basic conversational phrases and structures like greetings or requests, so you can use the language from the very first lesson.
Further, you will be exposed to the German variety that is most useful to you, be it the dialect spoken in Germany, Austria, Luxembourg, or Liechtenstein. If you already have some German proficiency, you'll advance to an even more personalized course that suits your skills and needs. You only need access to the Internet, a computer or smartphone, and free communication software to get started!
Here are some benefits of studying German online with us:
Our lessons are more flexible than face-to-face courses. As teachers don't need to commute, you can reschedule your lessons with just one business day's notice.
You can record the class for future review.
You'll receive full technical support from us. If you don't have Skype (or similar) on your computer yet, Listen & Learn will help you to set it up and test your sound and video well in advance of your first lesson.
Sign up for an online one-to-one or closed group German course. We adapt to you, so the lessons will be scheduled for your convenience. Just consider that the maximum number of students in a group is 8, and the minimum hours you can book is 10.
These are completely free and will take no more than 15 minutes


German
Level Test
Find out your level!
---
Top Tips For…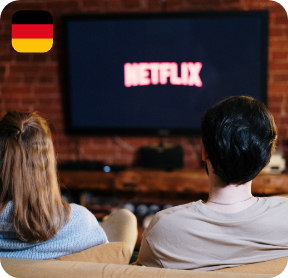 If you are looking to improve your German skills while enjoying one of the best science fiction thrillers of the last few years, then you should not miss Dark. This Netflix series is set in a fictional town in Germany and depicts the aftermath of children's disappearance, ultimately showing how four different families are connected by secrets. This highly suspenseful action series is perfect for German students with an advanced level of German who are looking for something to keep them on the edge of their seats! Plus, this series is so popular that talking about it can be a great way to break the ice with your German-speaking friends.
Start watching Dark here!
Do you need a break from your German vocabulary flashcards and textbooks? Watching films can be a great option to keep on improving your language skills while having fun. Run, Lola, Run is a very popular German thriller with a suspenseful storyline: it follows a woman who needs to get 100,000 marks to save her boyfriend's life. The story is set in Berlin, so you'll be exposed to the different accents that exist in the city, thereby improving your listening skills and your comprehension of German dialects.
Learn more about the movie here!
Watching German films is very useful way to educate yourself and learn more about the culture of German-speaking peoples. So, if you love movies, you'll be happy to know that annual German Film Festivals are common throughout the USA. For example, the NYC event showcases the best films, documentaries, and short movies of the year. These movies are screened in German with English subtitles, so you won't have problems understanding what the actors are saying if you're a beginner. Don't hesitate to attend; take your German skills to the next level!
Want to know more about the festival? Read more here!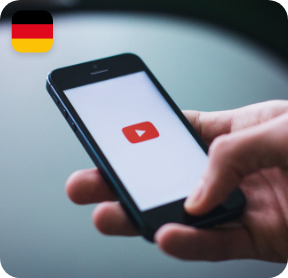 Do you like fashion and beauty? Would you like to know more about these topics while improving your German proficiency? Then Bibis Beauty Palace is the YouTube channel you need to check out. With more than 5 million subscribers, the channel creator (Claßen) speaks about lifestyle, makeup, fashion, and travel topics—and all in German. She uses simple vocabulary and grammar and speaks in a very slow pace, so it's a good option for those who are just starting with their German course. Some vocabulary you're likely to learn includes Bilden (makeup), Koffer (suitcase), and Flugzeug (airplane).
Subscribe to her channel here!
Gamers can have some fun while improving their German skills by following Erik Range. He's the most famous German YouTuber and a game developer himself, so you'll not only enjoy his funny videos, but also his vast knowledge of the gaming industry. From Minecraft to The Last of Us, he likes playing anything and everything on PC and consoles. Although he speaks quite fast and uses a lot of slang and jokes while playing, you can turn on YouTube's automatic subtitles and enjoy the videos regardless of your current German level!
Subscribe to his channel here.
This YouTube channel is run by a famous German actress who has acted in several TV series and indie movies. Today, Dagi uploads video tutorials related to lifestyle and makeup, where she gives tips on the best products to use and how to apply them to be fashionable and healthy at the same time. Some of the topics she covers include teeth whitening, scar removal, and sun protection. Another positive aspect of her channel is that she reads almost all the comments and answers questions, so it's a great opportunity to put your German skills into use!
Subscribe here and learn more about lifestyle!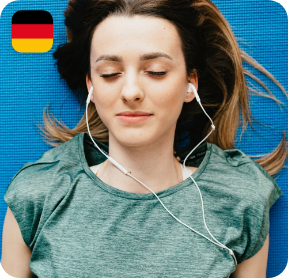 Grauzone is a great band for German language learners because of their slow cadence and clear pronunciation. Also, they have hits for everyone: whether you like rock, pop, or blues, you'll find something to your tastes. Taking one example, the song Eisbär describes a man who wants to become a polar bear and gives all the reasons while he'd like to be this wild animal. Curious, right? It's a brilliant track to learn the conditional tense (as the man describes hypothetical situations) and vocabulary about wild animals, such as claws (Krallen), growls (Knurrt), or fur (Pelz).
Click here to listen to the song!
Looking for a song to put your German skills into practice while learning more about the history of Germany? Then, Wir Sind Wir might be the track you want to hear. The singers sing about the state of the country after the fall of the Berlin Wall, describe the appearance of the welfare state, and the success of the economy. As the vocabulary is quite complicated, it's more suitable for intermediate or advanced students of German. Some expressions include Ruinen dieser Stadt (the ruins of this city) or keine Wiederkehr (there's no return).
Click here to listen to the song!
Do you like electronic music and want to deepen your knowledge of German bands and hits while practicing the language? Tour de France is the song you're looking for. As the name suggests, this piece describes the experience of participating in the world's most famous cycling race and the joy the singer feels upon winning the competition. The song is perfect for beginners, as the lyrics are simple and repetitive. Plus, it includes a lot of vocabulary related to cycling, such as flat tyre (platter Reifen), sprinting (Sprinten), or paving stones (Pflastersteine).
Click here to listen to the song!
ENGAGING. CONVENIENT. PERSONALIZED
Sign up for our face-to-face language courses in your city. You'll be fluent in no time!
Send us a quick inquiry
The best resources to learn german
Learning German today is an asset for any international professional, but it doesn't end there. Mastery of the language will also be of help if you plan to travel to German-speaking countries, like Austria, Liechtenstein, or Germany, and want to feel like a local. Plus, studying German will also give you an insight into the fascinating cultures that have helped to shape the European continent and the world.
Further, German is a great language for English speakers to learn as the two languages bear many similarities. But like any language, the key to learning German is to practice relentlessly, including using resources outside of lessons. To help you in your endeavor, we have compiled a list of fantastic online resources that will take your German skills to a whole new level!