ONLINE JAPANESE LESSONS
Japanese has a reputation for being one of the most difficult languages to learn for English speakers. From its complicated pronunciation to its three different writing systems, Japanese can be challenging indeed. But don't let this stop you! Sign up for Japanese lessons with our native-speaking instructors and they will guide you to fluency using their flexible and experienced approach. Soon, you'll be watching films and playing video games in Japanese without difficulty.
What will you learn with us?
Sign up for a Nihongo (Japanese's original name) course with us, regardless of your current proficiency level. If you are just getting started, our tutors will expose you to the language from the very first lesson. This way, you'll get used to the cadence of Japanese while learning to recognize different accents and dialects. Meanwhile, if you have studied the language before, you will dive into the more complex features of Japanese, such as its different sound combinations and intonations.
Plus, you'll learn grammar and vocabulary and develop your skills in a meaningful, motivational way using real-world resources. For example, watch TV series and short films in Japanese to learn conversational phrases and idioms; both of which are useful to become fluent in a short time. Sign up for an online Japanese course today and you'll be ready to watch great Japanese movies, like Chihiro, from the comfort of your bed or travel to Japan when the time is right!
Why take Japanese online classes with us?
Our tutors can be much more flexible with online lessons than with face-to-face ones: As they don't have to commute, they can adapt to schedule changes quickly, with just 1 business day of notice.
You can take individual or small-group lessons: Our private group classes are scheduled at the convenience of the students. Please note that the maximum group size is 8 people.
You only need a computer or smartphone, a headset, and Skype. If you haven't downloaded the program yet, don't worry; we offer technical support to help you get set up, and we will even test your video and audio with you, if necessary.
These are completely free and will take no more than 15 minutes


Japanese
Level Test
Find out your level!
---
Top Tips For…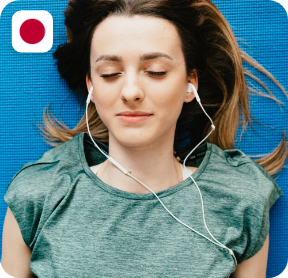 Do you like pop and would like to put your Japanese skills into play while listening to catchy songs? Then give Sukiyaki a try! This track tells the story of a man who talks about Japanese politics and his suffering at the time. However, the lyrics are generic enough for the song to be interpreted as losing a romantic partner. So, you'll acquire some simple vocabulary and terms related to feeling blue, like Kanashī (feeling sad) and Omoide (memories ), or phrases like being away from someone (Watashi kara hanareru). After listening a few times, you'll be able to talk about love and feelings in Japanese!
Find the song here!
Learning Japanese can be quite challenging, especially when it comes to remembering new vocabulary. Luckily, there are thousands of materials you can use to learn in a meaningful way. One of them is through songs, like Kawa no Nagare no You ni, a solemn track about life and how nothing is permanent. The song is a bit old but has become a legend due to its many covers. The song is great to learn some basic vocabulary, like road (doro), hometown (Shusshin-chi), or traveling (ryoko). So, why don't you grab a copy of the lyrics and try to understand what the singer is saying?
Enjoy this beautiful track here!
Do you like karaoke? Would you like to improve your Japanese pronunciation by singing along to the songs you like the most? Then give "Linda, Linda" a try. This popular track is performed by a rock band called The Blue Hearts and is more suitable for advanced Japanese students due to the complexity of the vocabulary and the speed of delivery. This piece follows a man who is in love with the titular Linda and speaks about all the things he would do for her if they were a couple. Listen to the song with the lyrics at hand and pick up some terms about love!
Listen to this catchy tune here.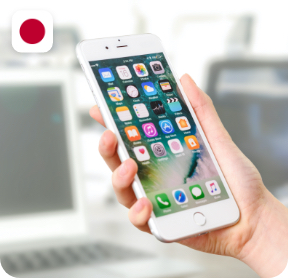 Mobile apps are great language learning tools and Learn Japanese is a fantastic app that has been built for both Android and iOS. The app is predominantly for beginner learners and focuses on teaching the most basic 800 Japanese words and phrases needed for a basic conversation. The vocabulary items are categorized into functions, like greetings, asking for help, ordering food, and more. In addition to each word and its definition, you can access an audio recording to help you grasp the pronunciation. So, you'll learn how to pronounce individual sounds while knowing more about word stress.
If you are looking for an interactive, fun way to learn Japanese grammar, then Tae Kim's Guide is the app for you. The app functions like a book, written for any learner who wants to fine-tune their Japanese skills. It focuses mostly on grammar and vocabulary, providing clear written and oral explanations with subsequent exercises for you to test what you have just learned. Beginners start by learning the Kanji and getting familiar with basic vocabulary, such as common greetings or the names of different types of food. More advanced users will find colloquial phrases and slang, as well as more complex grammatical explanations.
Looking for opportunities to improve your Japanese speaking skills with other enthusiastic learners or native speakers? HelloTalk is the app for you! Just download the app and create a profile, stating the languages you want to practice! The app will pair you with someone who wants to speak Japanese, as well. In addition to chatting via text and video call, you can provide each other with feedback, so you improve your speaking and listening skills. Best of all, the app is entirely free! Connect with people from different parts of the world and learn Japanese in an interactive way.
ENGAGING. CONVENIENT. PERSONALIZED
Sign up for our face-to-face language courses in your city. You'll be fluent in no time!
Send us a quick inquiry