ONLINE KOREAN LESSONS
Are you interested in K-pop and want to understand the lyrics of bands like PSY, Girls Generation, EXO, or BTS? Are you planning to move to Korea in the near future? Would you like to continue your studies at a reputable Korean university, either face-to-face with your teacher or online? Then, sign up for an online Korean course with us at Listen & Learn and get started with a fun, interactive program! And don't worry if you've never studied Korean in the past: our courses are tailor-made to suit your individual level, needs, and preferences.
What will you learn with us?
Korean can be quite challenging to learn, but don't let this discourage you: our professional, native-speaking tutors will give you tips and tricks for you to master the language in the manner most suitable and interesting to you and your learning requirements.
For instance, soon you'll know that, unlike other alphabets that grew organically, Hangul (the Korean "alphabet"), was invented. That makes it a lot more logical and, therefore, easier to learn and use than that of other Asian languages, like the characters of Chinese, Japanese, or even Cyrillic.
More reasons to learn Korean
Even though Korean is a language isolate (meaning it has no linguistic brothers or significant links to any other language), it has historical connections with Mandarin Chinese, so almost 60% of Korean words are of Chinese origin. So, you can use your Korean knowledge as a starting point to access other languages, especially Mandarin. Get started today and you'll become bilingual (or even multilingual) before you know it!
Why take an online Korean course with us?
Our online lessons are flexible, so you can reschedule with just 1 business day's notice.
You don't have to leave your home to study Korean.
You only need a computer or smartphone, a stable Internet connection, and Skype to get started! And, if you don't know how to use the software, our technical agents can help you download the program and test it.
These are completely free and will take no more than 15 minutes


Korean
Level Test
Find out your level!
---
Top Tips For…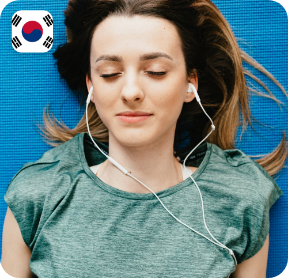 Songs for kids are great tools to use to practice Korean, especially if you are a beginner. For example, Mountain Bunny is a great option that can help you become familiar with Korean sounds and the basic vocabulary related to animals and food. Words like rabbits (tokki), squirrels (cheongseolmo), almonds (amondeu), or chestnuts (bam). Also, you will be introduced to onomatopoeias, as every animal that is named in the song makes their sound (and children are supposed to mimic them, though we fully understand if you don't feel like it!).
Check out the song here!
Are you looking for a Korean folk song that tells a beautiful story while putting your Korean skills into practice? Then, The Story of Kap Do-li and Kap Soo-ni is the piece for you. This is a famous, romantic song that talks about a young lady and her beloved who found it very hard to express their feelings for each other. They struggled so much that they even got married to other people and suffered for years. This track is great for intermediate or advanced students of Korean, as it's full of reported speech and passive voice structures.
Check out the song here!
Looking for a romantic song you can enjoy while learning some new vocabulary and grammar in Korean? You should definitely try The Empty Space for You, by Park Yoo-chun. This song is famous across Asia due to its catchy tune and poetic lyrics. The track follows a man who tells the story of an impossible love. It's great for intermediate and advanced learners, as it includes a lot of informal phrases and casual vocabulary. Sing along to this track and improve your pronunciation in a meaningful way.
Check out the song here!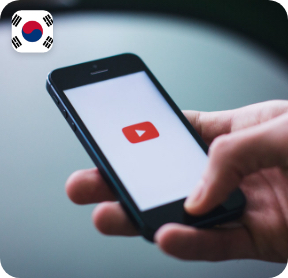 Short stories are a great way to acquire a new language while getting to know more about the target culture. If you want to hear Korean short stories narrated by a native speaker (which is great, because you will also get familiar with pronunciation), you should subscribe to You and I's YouTube channel. Most stories are really funny and accompanied by pictures and captions that make it easy to understand what the narrator is saying. So, the videos are suitable not only for advanced-level students, but also beginners can take advantage of these resources when learning Korean.
Watch these videos here!
Did you know that Korea has a free educational YouTube channel that frequently publishes useful videos for intermediate and advanced students of the language? All their videos are in Korean with subtitles (which is customary in Korean TV), meaning it will be even easier for you to follow what is being said. Some of the topics you can find on the channel include entertainment, food, scientific developments, and lifestyle, so you will surely find something to your taste! Once a week, EBS also posts long documentaries, which are perfect if you are looking for in-depth, educational content.
Watch these videos here!
Korean Unnie (older sister) is a great channel if you are just starting out learning Korean and would like to have a friendly companion on your language journey. The best part is that her content is not related to the formal aspects of Korean (so you won't find videos of her explaining grammar rules, for example), but instead you will acquire the language by watching her interact with others in real life. For example, Unnie will take you to a traditional Korean restaurant and teach you vocabulary, colloquial expressions, and even give you insights into the fascinating Korean culture.
Watch these videos here!
ENGAGING. CONVENIENT. PERSONALIZED
Sign up for our face-to-face language courses in your city. You'll be fluent in no time!
Send us a quick inquiry
The best resources to learn korean
Learn Korean today and you will have a one-of-a-kind opportunity to connect with over 75 million people on a whole new level. Proficiency in the language will also come in handy if you plan to visit South Korea, as only 10% of the population are fluent in English. Gain proficiency in Korean to dive into a fascinating culture with ease!
Now, learning Korean can be quite a challenging experience, as the language does not resemble English at all and textbooks in English can be hard to come by. Fortunately, the Internet is a goldmine where you can find worksheets, videos, games, verb conjugators, graded readers, and a lot more resources that will help you acquire Korean.