ONLINE MANDARIN CHINESE LESSONS
Mandarin Chinese is the most spoken native tongue in the world today, meaning that learning the language will allow you to communicate with more than a billion people around the world. Acquiring the language will be particularly important if you plan to study or do business with Chinese people, given that only 1% of the population in China speaks English. Sign up for an online Mandarin course with Listen & Learn and our native-speaking instructors will prepare personalized, interactive lessons for you to master this tonal language without effort!
Who can take online Mandarin lessons with us?
You can take a Mandarin online course regardless of your level of proficiency. You'll be learning grammar, pronunciation, and vocabulary while developing your receptive and productive skills using real-life materials like books, series, and movies.
What will you learn in your course?
Beginners will get started with a Survival course that includes basic phrases like greetings, polite requests, and asking for directions so you can start speaking in Chinese from the very first lesson. They will also deepen their understanding of the ancient Chinese culture and their rituals. After successfully passing this Survival Chinese course, students will continue their language journey with a tailor-made program that suits their every need.
Advanced learners will be acquiring more complex vocabulary and structures and fine-tuning their pronunciation. Mandarin Chinese is a tonal language, meaning that the same syllable has different meanings depending on how they are pronounced. For example, "ma" with a rising tone means hemp and with a falling tone means "to scold". Quite the difference, right? But don't worry: with the help of our professional trainers, you'll not find yourself in an embarrassing situation due to your pronunciation!
Some benefits of our Mandarin Chinese online lessons include:
Flexibility. As our teachers don't need to travel, they can be more flexible with rescheduling lessons according to your needs.
Possibility of recording your class for future review.
Technical support for Skype (for individual lessons) or other software (for group lessons).
You can take an online one-to-one or two-to-one course with our instructors. Or you may sign up for private group sessions with your friends or colleagues. Just consider that the maximum number of people allowed is 8.
These are completely free and will take no more than 15 minutes


Chinese
Level Test
Find out your level!
---
Top Tips For…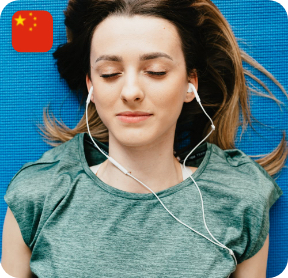 Are you looking to acquire some Mandarin Chinese vocabulary while enjoying some nice music? Then, you should give "Stranger in the North" a try. This is a pop and rap song that talks about a traveler who wants to get to know different places in the world and describes the beautiful landscapes he wants to visit. As it uses a lot of complex sentences and prepositions, it's more suitable for Advanced students. Plus, the rap sections are fast-paced and include many colloquial expressions, so it may be hard for beginners to understand what the singer is saying.
Check out the song here!
Those who love pop ballads and would like to improve their Mandarin Chinese skills should listen to "Light Years Away" by GEM, a great track to start getting familiar with this tonal language. As you may know already, a word can have multiple meanings in Mandarin depending on the tone the speaker uses. In this song, you will find some examples of how this can occur (and you will notice them because it is a slow-paced piece), such as the word "ma," which the singer pronounces with rising and falling tones.
Check out the song here!
Learning Mandarin Chinese does not only entail memorizing words from a textbook: you can also improve your listening comprehension and learn new words by doing something enjoyable, such as listening to music. For example, "Playhouse" by JiaJia is an inspiring piece that talks about self-acceptance and love. It's a great track for beginners, as it has a very slow pace and a lot of repetitions, while also using simple grammar and everyday vocabulary. For example, some of the most common words you will learn include love (ái), kiss (wen), hate (taoyán), and work (Gōngzuò).
Check out the song here!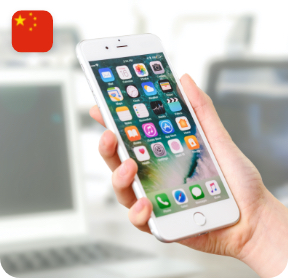 If you are an advanced-level student of Mandarin Chinese, you should download The Chairman's Bao app to your phone, available on both Android and iOS. This is an online newspaper that has been simplified, so that Mandarin learners can understand. Access the app and you will find thousands of articles about politics, travel, lifestyle, and more. The app includes an interactive dictionary, so when you are reading, you can tap on an unknown word and find out its meaning. Further, you can read in both simplified or traditional Chinese characters.
Check out the app here!
Do you learn better by listening to podcasts? Then, ChinesePod is the app for you. It features hundreds of high-quality podcasts, categorized by level and topic, so it's easy to find something that interests you. For example, you can learn traditional Chinese recipes or listen to businesspeople and entrepreneurs. Most of these materials include a transcript in Chinese (for the most advanced learners) and in English for those who are just starting their language journey. A big advantage over other apps is that you can download all the content and listen to the podcasts without an Internet connection.
Check out the app here!
Similar to Duolingo, Memrise is an app that offers bite-sized lessons in a great variety of languages, including Mandarin Chinese. You can find the lessons categorized by topic, such as family, food, jobs, and more. Some of the tasks include translation from Mandarin to English and vice versa, transcribing what you hear, joining two words that go together, and other interactive exercises that will help you remember vocabulary items and phrases in a fun way. And the best part is that you can use Memrise even if you only have 5 spare minutes a day.
Check out the app here!
ENGAGING. CONVENIENT. PERSONALIZED
Sign up for our face-to-face language courses in your city. You'll be fluent in no time!
Send us a quick inquiry
The best resources to learn mandarin-chinese
China is one of the most populated countries with 1.28 billion people, making Mandarin Chinese the most spoken native language worldwide. Learn Mandarin to expose yourself to opportunities to make new friends, discover a new culture, and expand your professional horizons. And don't let the language's reputation for being difficult to learn hold you back: with commitment, a suitable teacher, and world-class resources, you can master the Chinese writing system, its tones, and cultural aspects.
Explore our compilation of tools and materials and increase your Mandarin Chinese proficiency in a short time.