ONLINE PORTUGUESE LESSONS
---
Top Tips For…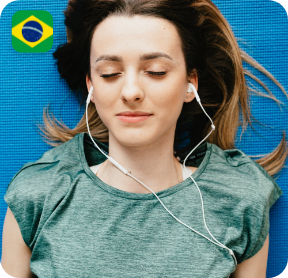 This is one of the most well-known Brazilian songs of all time. Garota (girl) from Ipanema has very easy-to-follow lyrics and a beautiful rhythm that makes it a great learning resources for Portuguese students of all levels. For instance, beginners will practice regular verbs that end in -ar (like passar), -er (prencher), and -ir (existir). For more advanced students, there irregular as well, verbs like vir, ficar or estar. There's even an English version of the song by Frank Sinatra, so it's a great idea to listen to both to compare the (very different) lyrics!
Dance to the rhythm of this catchy song!
Tribalistas is a highly popular (though short-lived) Brazilian group. They produced only one record, of which Ja sei namorar was the first track. It became so famous that it was chosen as the main theme of the FIFA video game in 2004. Listen to this song to brighten your day while putting your Portuguese skills to use! Learn how to use the infinitive and present tenses and pick up some words related to falling in love, such as namorar (make someone like you), beijar (to kiss), and sonhar (to dream).
Click here to listen to the song!
Construção is a very popular song by Chico Buarque, a great bossa nova singer with a pleasant voice. The song was composed during the military dictatorship that took place in Brazil decades ago and talks about difficult topics, like censorship, persecution, and death, by telling the story of a man who goes to work and never returns home. The song is most suitable for intermediate or even advanced learners of Portuguese, as it features complicated tenses like mixed conditionals and informal vocabulary like quatro paredes sólidas (4 solid walls) or um pacote flácido (a bland package) that won't be understood by beginners.
Dance to the rhythm of this catchy song!
portuguese

Youtube Channels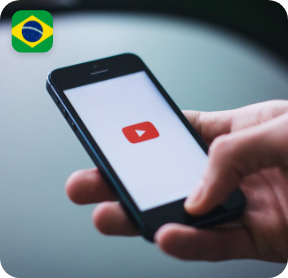 Run by actress Kéfera Buchmann, this is one of the most popular Brazilian YouTube channels today. It focuses on funny vlogs and parodies of famous Brazilian programs and artists. Even though the channel name translates as "5 minutes," this YouTuber uploads content that is much longer! As the videos feature famous artists from Brazil, you will get familiar with Brazilian Portuguese pop culture and slang. This channel is best suited for advanced students due to its speed of delivery and use of colloquialisms. Subscribe to 5inco Minutos and you will learn Brazilian Portuguese while having fun learning about the things you enjoy.
Watch these videos here!
portuguese

Youtube Channels
If you love conspiracy theories and crazy experiments, and would like to combine this with learning Brazilian Portuguese, you should definitely subscribe to D4rkFrame's YouTube channel. From trendy craft projects to car explosions, you will find eccentric content that caters to every preference. For example, he is always playing jokes on his wife, so you will learn vocabulary used to refer to a loved one, such as "minha namorada." And the best part is that it includes English subtitles, so you will be able to understand what the Youtuber is saying, even if you only know Portuguese to a beginner level.
Watch these videos here!
If you would like to level up your Brazilian Portuguese skills while learning something new, AulaLivre is the channel for you. The owners upload weekly content related to culture, science, arts, linguistics, and more. The videos are well suited to advanced language learners, as the channel has no subtitles and most teachers speak really fast and use a lot of slang. Fortunately, you will also find content related to the learning of Portuguese, which you can watch regardless of your proficiency level, as these videos feature tips on writing and pronunciation, punctuation, word order, and more!
Watch these videos here!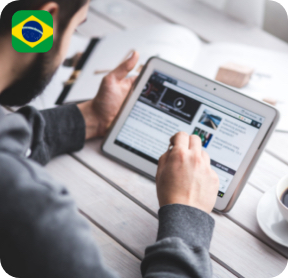 Do you want to keep up with what is going on in Brazil while practicing your Portuguese? R7 is a website that publishes daily news articles about sports, entertainment, lifestyle, and current affairs. The articles are very short (less than 300 words) and use simple vocabulary, so are great resources for beginners to practice reading real-life materials. Some of the words used are quite similar to their English counterparts, too; terms like proposta (proposal), apresentada (presented), or autorizado (authorized). But others are more advanced, making this website a great place for Portuguese of all levels.
Watch R7 for free here!
Globo News is the most famous news channel in Brazil. If you are based in Brazil, you can tune in to watch the daily news on TV (Jornal Nacional). But don't worry if that's not the case for you: they run an online live stream daily, and you can read what is going on in their articles, as well. Further, You will see plenty of William Bonner, the iconic newsreader who has been with Globo for over 20 years. If you are interested in specific cities, you can check out regional Globo news, too.
Watch GloboNews for free here!
Noticias ao Minuto is one of the most well-known news outlets in Portugal. Its website features news articles categorized by topic, such as culture, tech, celebrities, economy, and more. The focus is Portugal, though it also has a lot of articles related to Spain, its neighbor. Most of the materials here are short and simple (under 400 words) and the most relevant news is accompanied by videos, so they can be easily understood by intermediate-level students. They publish an impressive number of articles per day (more than 20 per category), so you will never run out of material to read.
Watch the news for free here!
The best resources to learn portuguese
Portuguese is one of the most spoken languages in the world today, with almost 400 million native and non-native speakers. Further, it is the official language of almost a dozen countries: besides Portugal (obviously) and the giant Brazil, Cape Verde, Mozambique, Angola, East Timor, and Sao Tomé y Principe speak Portuguese natively. This means that learning Portuguese can broaden your horizons and expand your possibilities of communicating with people all over the world.
Brush up your language skills with these free resources and develop all your skills while increasing your understanding of grammar and pronunciation rules in an engaging way without leaving your home!