SIGN UP FOR OUR ONLINE ITALIAN LESSONS
Italian is known as the language of music and culture, not least because Italy has the most UNESCO sites in the world. Get started with online Italian lessons with Listen & Learn and our professional, native-speaking tutors will prepare an interactive course just for you! Forget about memorizing endless lists of words or grammar rules: our programs are fun and motivational, making use of real-life materials, such as songs or TV series, for you to learn at your own pace and time. Whether you want to learn online because you want to or because you must, you'll soon acquire all the skills you need to travel, work, or even live in Italy.
Some reasons to learn Italian
Italian is a Romance language and a linguistic brother of Spanish, French, and Portuguese. These languages have similar phonemic and grammar systems (and share almost 40% of their vocabulary), so Italian is not only useful if you want to travel several European countries (you will have an easier time reading menus, maps, and signs, etc.), but it is a springboard to acquire even more languages in the future!
What will you learn with us?
Contact us today and we will start preparing fun lessons just for you, regardless of your proficiency level. If you don't speak a word of Italian yet, you will receive some Survival Italian lessons to get started. Either way, you will be exposed to the language from the very first lesson to start training your listening comprehension and fine-tuning your pronunciation. You'll also start acquiring some specific skills, like giving instructions, thanking others, ordering food, or greetings, so you can use Italian to communicate as soon as possible!
Once you become more fluent in Italian, you'll keep on advancing with a tailor-made program for intermediate and advanced students. For instance, our instructors will help you master Italian's complicated verb conjugations, making sure you always inflect them for gender and number.
Why take Italian online lessons with us?
You can record the lesson via Skype to review them later.
Technical support is available from our agents. If you haven't downloaded Skype yet, our technical team will help you to install the program, set it up, and test your video and audio.
Enjoy greater flexibility than with our face-to-face lessons. As our instructors don't have to commute to your home or office, you can reschedule lessons with just one business day's notice.
Start your online Italian course today! You can choose to take individual or small group sessions (with your friends or colleagues). Just bear in mind that the maximum number of people allowed per lesson is 8.
These are completely free and will take no more than 15 minutes


Italian
Level Test
Find out your level!
---
Top Tips For…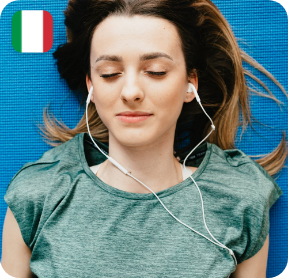 This is a timeless love song performed by one of the most famous Italian singers of all time, Andrea Bocelli. In this piece, the artist dreams of traveling to new places with his lover, so it's a great opportunity to learn vocabulary related to love and companionship. Also, Bocelli has great diction and enunciates the words clearly, making it a good song for beginners to start training their ears. Some expressions you'll be learning are "con te" (with you), "su navi per mari" (on ships overseas), "tu mia Luna" (my moon), and more!
Listen to this amazing song by Andrea Bocelli!
Mia Martini is one of the most well-known famous singers in Italy who often sings about heartbreak and disappointment. That is the case of Almeno tu nell'universo, where the poetic protagonist sings about loving a strange man, unique in this world, but who doesn't pay any attention to her. The song is almost entirely sung in the conditional tense, so it's great practice for intermediate or even advanced students looking to expand their knowledge of grammar and vocabulary. There is heavy use of adverbs, for example, like davvero (really) or per sempre (forever).
Enjoy her song here!
This song follows a man who's confessing his love for a married woman, knowing she will never love him back. Still, he claims that his love will last for life. As the song is slow and Adriano Celentano pronounces each word very clearly, beginner students will find it easy to start training their listening comprehension while picking up some new words, such as "amico" (friend), vita (life), dormir (sleep), and more! The song also uses the future tense a lot, so it's great if you're looking to practice that particular grammatical feature while listening to great music.
Click here to listen to this hit!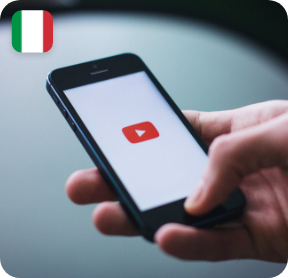 Weilá Tom is a YouTube channel for Italian language learners. Tom, the owner, always records positive messages about not giving up when learning Italian, even if the process is slow or difficult. Tom is not an Italian native speaker but an American who has been acquiring the language for the past 11 years. What he does, then, is to share his experience and talks about the things that worked for him as a native English speaker. The videos are suitable for all levels of proficiency, as he speaks Italian very slowly, and all his content has English subtitles.
Subscribe to his channel here!
Learning a language is not only about memorizing rules or acquiring vocabulary. It is also important to feel inspired and to practice with others. So, why not subscribe to YouTube channels that give positive vibes and advice on how to learn Italian more efficiently, like Briller? This channel is run by Bryan, an American who's been living in Italy for more than 10 years. He shares his passion not only for the Italian language, but also for the country's culture and traditions. Watch these interesting videos and learn important Italian vocabulary, such as words relating to food, like gnocchi or papardelle.
Subscribe to his channel here!
Listening to international news is a great way to acquire language fluency, increase your listening comprehension, and learn Italian vocabulary. One great YouTube channel for this is Breaking Italy, which features the hottest topics and trends from around the world, and the European Union in particular. By watching this content, you'll get familiar with idiomatic expressions and slang in addition to everyday vocabulary. The man behind this show is a native Italian who speaks using very clear pronunciation and at a slow pace (especially when it comes to the news), so students of all levels can benefit from these videos.
Subscribe to this channel here!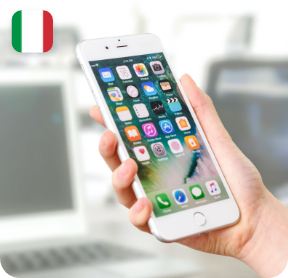 Watching videos is a great way to put your Italian skills into practice, and even more so if this content is graded by level. Fluent U offers exactly that: they have curated a list of movie trailers, music videos, interviews, and TV programs, and have rated them to suit different proficiency abilities. All these videos have subtitles that people switch on in case they want some help, as well. You can even click on the words that interest you to learn definitions, pronunciations, and examples of how they are used. The app also includes other resources, like flashcards and transcripts, to use on the go!
Click here to check out the app.
Playing games is a great way to learn a language, and you can improve your Italian skills with an app like 50 languages. It has puzzles, crosswords, Spot the Difference, and other interactive games that will take your Italian vocabulary to the next level. The app also offers a phrasebook that links audio, text, and pictures, so you can get familiar not only with a word, but also with its meaning, pronunciation, and use. Also, you can check on your progress at any time by taking one of their proficiency tests (written, multiple-choice, word order, or bubble game)!
Click here to check out the app.
Mondly is a great app to try if you are looking to improve your listening comprehension and expand your vocabulary in Italian. This app features hundreds of real-life conversations, recorded in great quality, that contain target terms and everyday expressions that are useful to know to increase your fluency. Best of all, Mondly can be used to test your comprehension in many different ways, like matching words to their English counterparts or by asking some general questions. The app's videos are grouped into different proficiency levels, so you're sure to find materials to practice, whether you're a beginner or an advanced-level student.
Click here to check out the app.
ENGAGING. CONVENIENT. PERSONALIZED
Sign up for our face-to-face language courses in your city. You'll be fluent in no time!
Send us a quick inquiry
The best resources to learn italian
Italian has more than 85 million speakers worldwide and has been declared as one of the 15 most influential languages by the BBC. This means that learning Italian can expand your horizons and present countless opportunities. For example, it can improve your professional prospects if you plan to work for an Italian-speaking company or enable you to make the most out of your future trips to Italy.
Want to master the Italian language in a short time? There is no better way than by practicing what you learn in class by using tools and media! Make use of these resources to develop your productive and receptive skills while learning more about Italian grammar, vocabulary, and pronunciation!