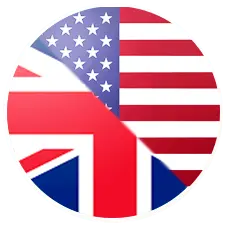 English Lessons in Toronto
Did you know that about 4,000 words are added to the dictionary each year? The English language is dynamic and ever-changing, meaning that learning the language on your own can be challenging. But don't worry: our native-speaking instructors have many years of experience guiding students to fluency and will give you tips and tricks to become proficient in English in a short time.
One in five people in the world can speak or at least understand English, and it's the official language of more than 50 countries. This means that taking face-to-face or online English lessons in Toronto will help you communicate with millions of people worldwide, as well as in the city itself, where 85% of the population speaks only English.
With more than 2 million people able to speak English in Toronto, you'll never run out of opportunities to put the skills you acquire in your English course into play. For instance, you can join one of the dozen exchange groups available in the city, such as the Talk With Language Lovers Meetup, where you'll make new, like-minded friends who love languages as much as you do and want to practice their English.
What are you waiting for? Contact us at Listen & Learn and we will design interactive, tailor-made activities for you to acquire the language in a smooth and fun way! Get started with English lessons in Toronto and you'll be able to speak to people from all over the world, from Alaska to Egypt!