11 Things to do as a Tourist in Peru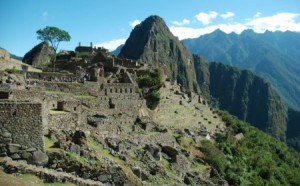 For the adventure-seeking traveler, Peru is the land of opportunity. Whether you want to chill on a remote beach, explore centuries-old ruins, or see one of the rarest animals on the planet, it's all possible in Peru. Here are our top 10 tourist activities for a journey to Peru:
1) Learn the Lingo
South America is a continent with rich, passionate, and varied expressions. Every country has a different take on communication, from the sweet Colombian to the choppy Chilean. Have a go at the lingo in Peru to get the most out of your travels.
2) Take surfing lessons in Máncora.
Located near the northernmost part of Peru, the famous Máncora beach is said to be home to the largest left hand point break in the world. Whether you're new to surfing or consider yourself a pro, test out the waters for yourself and you'll find that they make quite an impression.
3) Visit the pink dolphins.
The Peruvian Amazon is teeming with life, including the elusive pink dolphin. These incredible creatures are unlike anything you've seen before and are said to be seductive shape shifters by local tribes.
4) Check out the paragliders in Lima.
Lima is a city that sits at the ocean's edge, making for a dramatic skyline and an even more dramatic jumping off point for paragliding pilots. Grab dinner at an outdoor spot to watch the gliders fly above, or, even better, book a tandem flight and get in on the action for yourself!
5) Visit a traditional cuey restaurant.
Cuey is the local name for guinea pig, and it's a very traditional Peruvian dish. It's most common in small towns throughout Southern Peru, where you can visit a local restaurant and even pick one out for yourself if you really want to.
6) Fly over the Nazca Lines.
The small town of Nazca lies in the desert south of Lima. The highlight of this dry, nearly forgotten town is the incredible lines that cover huge areas of land in the surrounding desert. Board a 3- or 4-person plane and check out the lines from hundreds of feet up in the air.
7) Spend an afternoon in Arequipa's Plaza de Armas.
To get a true feel for the people of Peru, you'll need to slow down and take things easy. There's no better spot than one of the lovely outdoor restaurants situated on Arequipa's main plaza–the Plaza de Armas–where you can people-watch and take in the incredible scenery for hours.
8) Visit Machu Picchu.
The country's most visited destination is a must-see. Go as early in the day as you can so you can take your time to explore this magical place and absorb some of its incredible energy.
9) Meet jungle creatures in Manú National Park.
This national park is home to more than 200 species of mammals and 800 species of birds. Visitors frequently spot macaws, monkeys, and jaguars, along with dozens of other animals.
10) Visit the floating islands of Lake Titicaca.
If you venture to Puno, you'll find yourself surrounded by Peruvian dress, food, and handicrafts. Take a boat tour out to explore Lake Titicaca and you'll see floating reed homes that represent a local way of life that has existed for centuries.
11) Visit sea lions in Paracas.
Along the coast south of Lima you'll find the Paracas National Preserve, which is home to penguins, sea lions, and dozens of species of marine birds. Explore the preserve, and if your timing is right, you could see 50 or more sea lions lounging in the glorious, tropical sun.
A trip to Peru will never be forgotten, no matter where you visit or what adventures you embark on. If you're planning a vacation to this incredible South American country, there's no better time than now to brush up on your Spanish. Test your Spanish language skills for free before you jet off!