3 Stunning Latin American Destinations for Budget Travelers
When most people hear the phrase "vacationing abroad" thoughts of endless spending come to mind. But traveling outside U.S. borders doesn't have to be a budget-busting experience. In fact, if you take a smart approach in your planning and in your day-to-day spending, travel in Latin America can be much more affordable than you probably think. Here are 3 of our top locations for a memorable vacation in one of the Western Hemisphere's Spanish-speaking countries:
Isla Mujeres, Mexico
1 USD = about 13 Mexican pesos
Accommodations: Though upscale resort-like properties own the island, modest hostels and hotels, like Hotel Rocamar, give you everything you need to enjoy peaceful sleep, a great view, and easy access to local beaches. With prices as low as $60-$70 a night, you'll save hundreds–if not thousands!–over what you'd pay at those fancier places.
Language Tip: Hostel in Spanish is "hostal," but it's not always that simple to know what is a hostel and what is a hotel. They're also called "casas" (homes), and "posadas" (inns), among other things.
Drink & Food: Hit up the friendly "Pita Amore" for a fresh and tasty meal for under $10.
Transportation: You won't need to worry about getting around much on this small island, but if you feel like scootin' around, just rent a golf cart for the day and you'll feed your need for speed…or at least for speeds of up to 15mph. Golf Carts Indios is known for providing incredible customer service and rentals go for about $40-$60 per day.
Practically free activity: Visit Tortugranja (or Turtle Farm) and see dozens, if not hundreds, of turtles being raised in captivity. This small organization works to educate the public about these endangered sea turtles and to improve the size of their population in the local area. If you're lucky, you may even get to help release some of the baby turtles into the wild! Entrance costs just $3.
Your one big splurge: Rent a beach bed and live like royalty for a day while ordering drinks and freshly prepared lunch and dinner from Na Balam or another of the island's impressive beach clubs. A budget of $100 will make for a wonderfully luxurious afternoon on the sand.
Daily Budget: $90-$110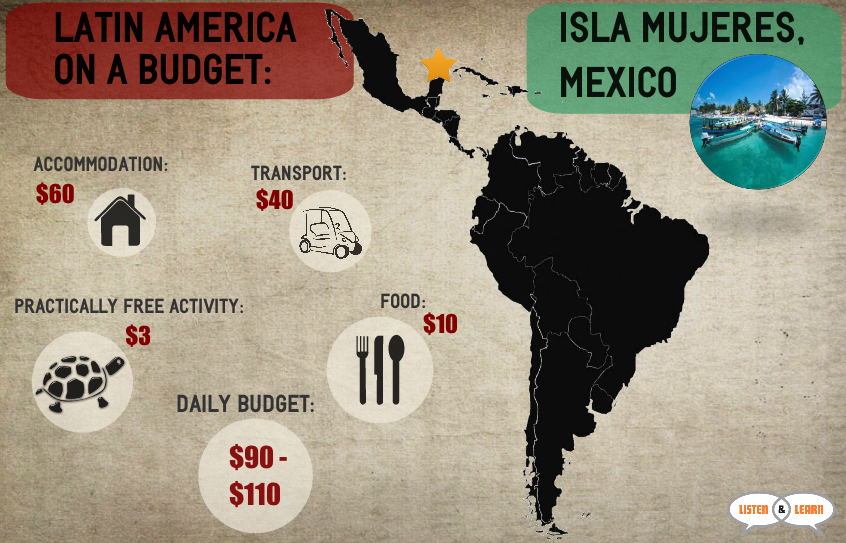 Jacó, Costa Rica
1 USD = about 550 Costa Rican colones
Accommodations: When traveling on a budget in Costa Rica, skip hotels and consider staying in hostels instead. You can often get a simple and clean private room for half the price–or less!–than what the hotel next door is charging. In Jacó, check out (or in to) the Room2Board Hostel, which has been earning rave reviews in the few months since it opened.
Drink & food: Wherever you are in Costa Rica, you can get a hearty and affordable meal for a flat rate of about 2,000 – 2,500 colones ( $4 or $5) at little roadside stands and casual restaurants. The casado consists of rice, beans, salad, fried plantains, and your choice of meat or vegetables and is a great option for lunch or dinner. Meals come with a glass of freshly made fruit juice.
Transportation: Buses are the way to get around, easily saving you 75% or more off your transportation costs. An air-conditioned shuttle van from the capital to the coastal town of Jacó will set you back about $50, but a ride on the public bus costs a mere $4.
Language Tip: There are different levels to the bus systems in most countries, so knowing Spanish is pretty essential for getting around this way for any extended amount of time. In Costa Rica, the "directo" goes directly from one location to another, while the "colectivo" might stop every couples of blocks or couples of minutes to pick up and drop off riders.
Practically free activity: Visit the Costa Rica Coffee Experience shop and try a free sample of local coffee while perusing the vast selection of goods. You'll find unique products here that are locally made and of a much higher quality than the cheap, mass-produced options most other shops have for sale.
Your one big splurge: Don't miss your chance to go tree climbing in the rain forest with the folks at Upventures Tree Exploration Tours. They are one of the only groups in the world to offer overnight tree camping, with guests sleeping in a rainforest canopy, surrounded by monkeys, scarlet macaws, and other exotic wildlife.
Daily Budget: $80-$100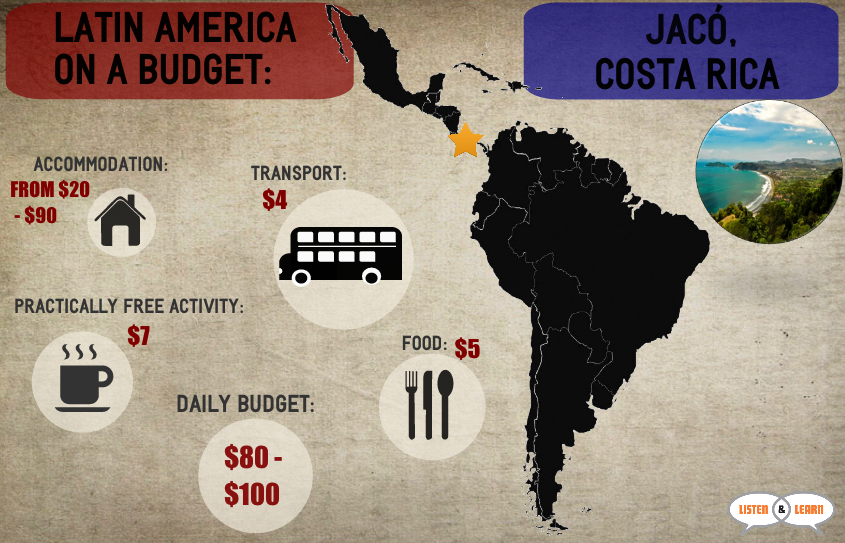 Cuenca, Ecuador
USD (no local currency in circulation)
Accommodations: La Casa Cuencana is a charming, family-run hostel located in the midst of historic Cuenca. You'll feel like you're staying at a private home as opposed to a commercially run business, which is always a welcome experience while on the road.
Drink & Food: Buy a serving of yogur con pan de yuca every day while vacationing in Ecuador–you'll miss it sorely once the trip is over. You'll probably think it looks pretty strange as you notice street vendors selling the seemingly unlikely duo of tart yogurt and little starchy buns, but you'll quickly acquire for a taste for this delicious duo!
Language Tip: No matter where you go in Latin America, if you ask for a "cerveza," they'll know what you're looking for. Listen to the locals and you may hear them calling it a "birra," or a "chela." Pilsener is the beer of choice throughout most of Ecuador.
Transportation: If you're traveling between major cities in Ecuador, consider booking one-way flights on Avianca, which can routinely be had for under $100. Getting around by bus is entirely possible and very affordable if you have the time to spare!
Practically free activity: Make sure you spend a morning lounging around the main square, Plaza Abdon Calderon, where the people-watching is fantastic. Pay a visit to the Catedral de la Immaculada, which overlooks the square, and pay $2 to climb an almost never-ending flight of stairs to the roof, where you'll take in the incredible views of the city and mountains that surround it.
Your one big splurge: Treat yourself to a pampering massage and soak in the thermal springs at Piedra de Agua Fuente Termal & Spa. You'll feel completely revitalized after soaking in a hot mud bath, partaking in a musical therapy session, or taking a dip in the Japanese pool. You'll be pleased to know that prices for the services cost as little as $10 each. Two words: worth it.
Daily Budget: $60-$80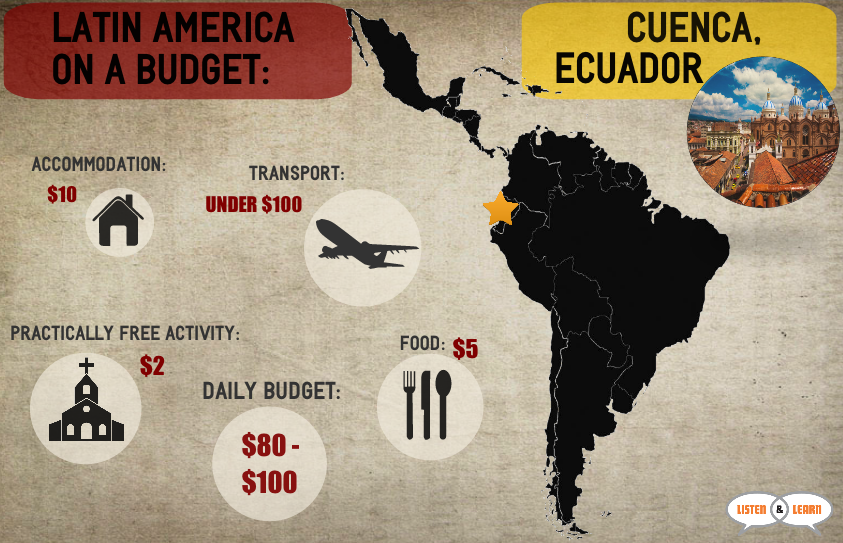 Whether you're traveling to Isla Mujeres, Jacó, Cuenca, or elsewhere in Latin America, you can apply many of the cost-saving measures outlined here to keep your spending under control. And chances are that if your Spanish is in good shape, you'll find better deals. Ask your waiter, a tour guide, or the girl at reception which activities they recommend to visitors to their area.
Speaking Spanish gives you leverage to negotiate prices and get insider tips on the area's best undiscovered attractions! If your Spanish needs a little work, be sure to contact us today. And if you've got a favorite budget-friendly destination in Latin America, share your tips with us in the comments below. Keep an eye out for our next post in this series with more budget-friendly travel destinations in Latin America!
If these three spots aren't enough for you and you've been left wanting more, check out Part II of Latin America's best destinations for budget travelers!