4 Career Fields Where Knowing Spanish is Essential
An active working knowledge of the Spanish language is not just a convenience anymore in today's workplaces, but a necessity in many of the most common forms of gainful employment in the United States. Below are a few examples of this fact, highlighted in four of the U.S.'s top career choices, where knowing Spanish is becoming a vital asset.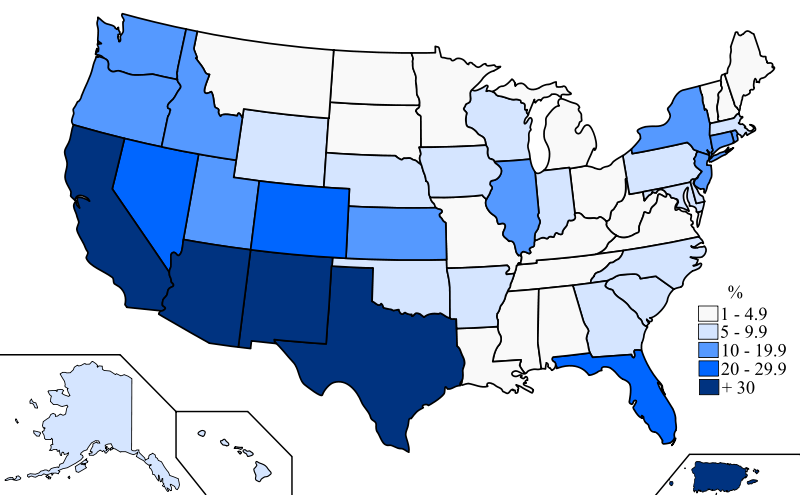 US Hispanic Census Map by Vrysxy/Wikimedia
Business
Spanish-speaking employees are becoming the new business "Must Have" in order to successfully accommodate not just surrounding communities, but a nation that is increasingly embracing a Hispanic American culture. With Hispanics making up almost one-fifth of the American population, Hispanic business owners are only represented in our society with being slightly over 14 percent of the business community.
Given the disparity in the number above, the benefits of knowing Spanish as a non-Hispanic business owner are blatantly obvious. Being able to effectively speak with not just Spanish-speaking employees and co-workers, but in being able to communicate with clients and customers as well, is going to help give access to that under-taped Hispanic customer base.
In North America, Hispanic consumers are the fastest-growing market segment. Good business sense in the years to come will include accommodating this large community and helping them to distribute some of their vast disposable income towards your company's direction. Being the person who can help officiate that process with their working knowledge of the Spanish language, is what will also make one positively stand out to an employer, prospective or otherwise.
Marketing
Spanish is the official language on four continents. It is also the mother tongue in over 20 different countries. 350 million people around the World designate their mother tongue as Spanish.
In marketing terms, the immense value of targeting that large Spanish-speaking pool is plainly obvious. Globalization is the ongoing trend in marketing, and the Hispanic factor must always be considered and included in a profitable and successful campaign. Free trade agreements for decades have been helping to shrink the enormous business world into a smaller global networking community.
The climbing economic growth rate of Latin American economies has brought South American countries out of the Third World. Statistics put Spanish as the second most spoken language worldwide besides English, which means that on the Internet and social media scenes, Spanish in marketing plans are also becoming "a must" these days.
U.S. Companies will risk losing access to almost half a billion Spanish speakers if this economic trend goes unnoticed. That would be a major and costly mistake to ignore that kind of marketing demographic. Corporations who realize this fact are constantly looking for multilingual representatives to help them tap into this ever-growing and already gigantic market.
Health Care Industry
In the last decade, the Healthcare Industry has confronted, and taken great strides in breaking down the great social barriers that have existed within its establishment, by implementing and providing appropriate and timely care to a growing Hispanic community in North America. One of the largest of those barriers has not been cultural, but linguistic in nature.
Problems that language barriers present in the Healthcare Industry:
– The excessive or unnecessary ordering of medical tests.
– The lack of adequate patient understanding of medication side effects and provider instructions.
– A decreased use of primary care and an increased use of the Emergency Room department.
– Inadequate follow-up rates due to a lack of proper communication.
All four of these language-based problems, are not only counterproductive to providing proper health care but can be downright life-threatening variables to patients using the Healthcare Industry as well.
Education Industry
According to a 2013 Huffington Post article in Latino Voices:
"The demand for Spanish-speaking teachers is increasing in urgency: As schools scramble to adapt curricula and classes to a changing population, it's more critical than ever that teachers can communicate in two languages."
Around the same period of time, Western states were struggling in America to accommodate a growing 10% of students who were just learning English as a second language, according to the National Center for Education Statistics. As one can imagine, the same is even truer in 2015, especially with the influx of Hispanic populations flowing into the Southern States that border with Mexico.
The growing number of Hispanic immigrant children in the American Public School System in 2015, and beyond, is expected to continue to climb as well, so it makes perfect common sense that the need and shortage of, trained and accredited teachers who are fluent in both English and Spanish, will continue to climb into the next decade also.
Preparing for a New Era
The 2013 Census Bureau Report also stated that Hispanic Americans make up 17% of the U.S. population. This group of over 35 million Spanish speakers across the country is only growing in numbers. Economically, socially, and professionally, it makes more and more sense in the new millennium to consider bilingualism, not just as a goal, convenience, or social interaction tool, but as a strong resume builder with real working attributes that are becoming a not only a desperately needed talent but a highly sought after one as well with employers.
You can get on the fast track to learning Spanish, or other second languages, by contacting us and finding a language program that fits your needs, in a location near you, through the longstanding and reputable language professionals at the Listen & Learn website.