5 Original Christmas Presents for Language Lovers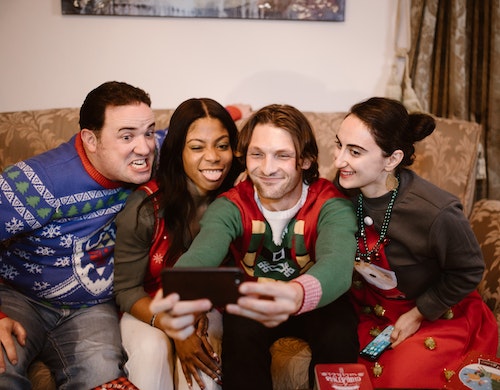 Can you hear the bells? Christmas is just around the corner! If you're anything like us, you're probably scrambling to find the perfect Christmas presents for your loved ones already. And, what better way to show your love than with a language-related gift? By giving away Christmas presents that promote language learning, you can help your language-loving friends find the motivation to keep working on their fluency, or even convert a few non-believers into passionate polyglots!
→Sign Up Now: Free Trial Language Lessons With Native Teachers!←
Here are 5 original Christmas gifts for language lovers that will make their holiday season even brighter.
1. A telenovela box set
If your significant other loves watching Mexican, Colombian or Portuguese telenovelas, they'll be sure to appreciate a box set of their favorite show. And what could be a more perfect Christmas gift for language learners than one that will help them
improve their listening skills
while providing hours of high drama? With sassy one-liners, creative insults, and fiery declarations of both love and revenge,
telenovelas
are the perfect way to learn about Latin American culture and improve your Spanish or Portuguese at the same time. Just make sure you don't get too caught up in the drama yourself!
2. Harry Potter in their target language
We all know the story: Harry, a skinny boy raised by his despicable uncle and aunt, is told by a kind-faced semi-giant that he's a wizard on the night he turns 11 years old and is promptly whisked away to the Hogwarts School of Witchcraft and Wizardry. From there, he makes lifelong friends, battles evil forces, and discovers the truth about his family. No matter what your age, Harry Potter is a timeless story that can be enjoyed again and again. And for language learners, reading these books in their target language is a great way to improve their reading comprehension and vocabulary. By reading a book that they know very well, they can focus more on the language itself, and less on trying to understand the plot. If your significant other is not what you would call a Potterhead, no problem! Just
get them their favorite book
in their target language and it will do the trick. Whether it's
The Little Prince
,
Crime and Punishment
or
The Girl on the Train
, revisiting a story that is close to their heart in a new language is bound to be a special experience.
3. A yoga or pilates lesson pack with a foreign instructor
Is your friend, family member or partner a fitness fanatic? Why not give them the gift of a foreign language by signing them up for a series of yoga or Pilates classes with an instructor from a different country? Hearing the same instructions, body part names and action verbs in their target language over and over again will surely help them to pick up some new vocabulary and become familiar with the sounds of the language. And what better way to learn a new skill than by doing an activity that will help you keep active and healthy? Who knows? They may even make new friends with whom they can practice their language skills outside of class.
4. A trip to a foreign country
If you're feeling generous this holiday season, why not treat your loved one to a trip to a foreign country? This is the perfect gift for language lovers who want to take their skills to the next level. By immersing themselves in the culture and speaking the language every day, they'll be sure to come back with a much better understanding of the values and cultural practices embedded in their target language. Besides, they'll have plenty of new stories to share with you about their adventures. Or, better, you could even join them! Wouldn't that be wonderful? That way, you could learn the language together and create even more memories that will last a lifetime. What's more, you could continue practicing the language together after your trip is over.
5. A tailored language course -- the best of all Christmas presents
This list wouldn't be complete without a shout-out to the Christmas gift that keeps on giving: a tailor-made language course designed specifically for your loved one's needs and interests. With a personalized language learning experience, they can learn at their own pace and in their own time, without having to worry about schedules or timetables. They can also choose to focus on the topics and vocabulary that are most relevant to them, whether they need to get ready for a work presentation, learn a few Arabic phrases ahead of the FIFA 2022 World Cup, or simply learn a few everyday phrases to get by in a foreign country
→Sign Up Now: Free Trial Language Lessons With Native Teachers!←
At Listen & Learn, we believe that language learning should be fun, interactive and structured around the learner's preferences. That's why our courses are designed to fit each individual's academic, professional or personal goals, but also to suit their learning style. And what's more, we offer a free trial lesson so that you can try it before you buy! So there you have it: 5 original Christmas gifts for language lovers. Whether your loved one is just starting out on their language learning journey or they're already proficient in their target language, we hope that one or two of these ideas will be the perfect Christmas presents for them. Merry Christmas!