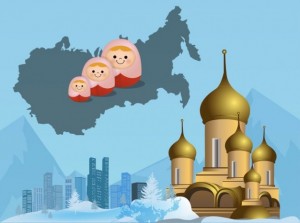 When you think of Russia you may not immediately think of five-star restaurants or child-friendly cuisine. In fact, the restaurant style we have of eating, with one course after the other, comes from Russia. Before we used to eat French style, with everything laid out all at once as a buffet. So we have Russia to thank for leisurely four-course meals.
Although there are some Russian dishes that can seem quite strange, there are lots that won't be too much of a shock to a child's unfamiliar taste buds, including desserts. Encourage your kids to branch out and try something different – and set a good example by trying it first!
1.Syrniki, and 2. Oladyi
Two types of pancakes, syrniki and oladyi are sure to be a hit with the kids. Syrniki are made with quark, a dairy product created by warming soured milk. Quark is often compared to curd cheese or cottage cheese and is mixed with flour, eggs and sugar to make delicious syrniki. They're often served with jam, honey or applesauce. Oladyi are a thick pancake, more like the American style ones your children will be used to. If you're not quite brave enough to try pancakes made with quark, but oladyi seem a bit too safe, there are always blini, which are similar to crepes.
3. Beef Stroganov
This classic Russian dish is popular in many other countries, including the USA and several places in Europe. A traditional stew, it's made with pieces of sautéed beef and smetana (sour cream). In Russia it's often served a side dish of crispy potato straws. Russian children have been eating beef stroganov since the 1800s, so it must have something going for it!
4. Pelmeni
Perfectly sized for little fingers, pelmeni are dumplings made with thin, unleavened dough. Fillings traditionally include minced meat, fish or mushrooms. They are boiled in salted water or broth and sometimes fried afterward. In Siberia pelmeni are traditionally frozen outside to preserve them before eating, but bought from shops they're considered a kind of cheap, fast food.
5. Pirozhki
Pirozhki are baked or fried buns stuffed with a filling. They are typically made with beef or a vegetable filling, such as mashed potatoes, mushrooms or cabbage. Usually eaten warm or hot.
6. Kulich and 7. Paskha
Easter is important in Russia and kulich and paskha are two of the foods traditionally made for the occasion in the Eastern Orthodox faith. After the Easter service, kulich, a bread similar to panettone, is blessed by the priest and eaten for breakfast each day until Pentecost. It's baked in tall, cylindrical tines and decorated with icing. Kulich that isn't blessed is eaten with paskha, which is made using the foods forbidden during Lent (a bit like some other countries that make pancakes). It contains quark, sometimes includes butter, eggs, sour cream, vanilla, spices, raisins or candied fruit, and is decorated with religious symbols.
To begin your Russian journey, learn how to order your food (and recognise the things you definitely don't want to eat!) and more, take our Russian level test to measure your Russian knowledge.
Which other Russian foods will kids go wild for?