Full Immersion Italian Lessons in Esino Lario, Italy
Here at Listen & Learn we enjoy receiving feedback from both students and teachers. Upon finding out that one of our teachers offers both courses and the chance to stay in an Italian village near Lake Como, we decided it was time to hear from her:
Ciao a tutti, bonjour! I'm Alessandra a bilingual teacher. As I've always preferred my students to talk about their experiences, I contacted Stephanie, who studied and stayed here. This is her story:
Hi everyone, I'm Stephanie Malinki from Colorado. I've always wanted to be bilingual and to study the Italian language.  I tried a teacher near my home, but it didn't work out between us – I needed someone patient and constantly encouraging.  I found my perfect teacher on one of my many Internet searches: Alessandra Paganin was and has been a flawless teacher.
She has been patient and excited for me to keep learning. I take lessons with her, via Skype, three times a week. After taking classes for several months, I went to study for 2 weeks with her in her hometown of Esino.  It was a lovely trip to Italy to study the Italian language. Alessandra rents out an apartment in the same building she lives and teaches in.  The area is quiet and has many places to explore – the grocers, coffee shops, pizzerias.  The apartment itself is warm, bright, clean, and very comfortable, with a kitchen that is great for making Italian meals with fresh ingredients, made in Italy.
I loved that I could save money and eat in, or take a stroll to get something yummy instead!  I enjoyed having a person I knew close to me too.  I arranged lessons with Alessandra before arriving, and had the advantage of knowing my schedule so I still had time to see the area.  The bus ride to Varenna and ferry to Bellagio was extremely beautiful!  I also shared a coffee and a pizza with Alessandra and her family – it was nice to be together socially and practice studying the language.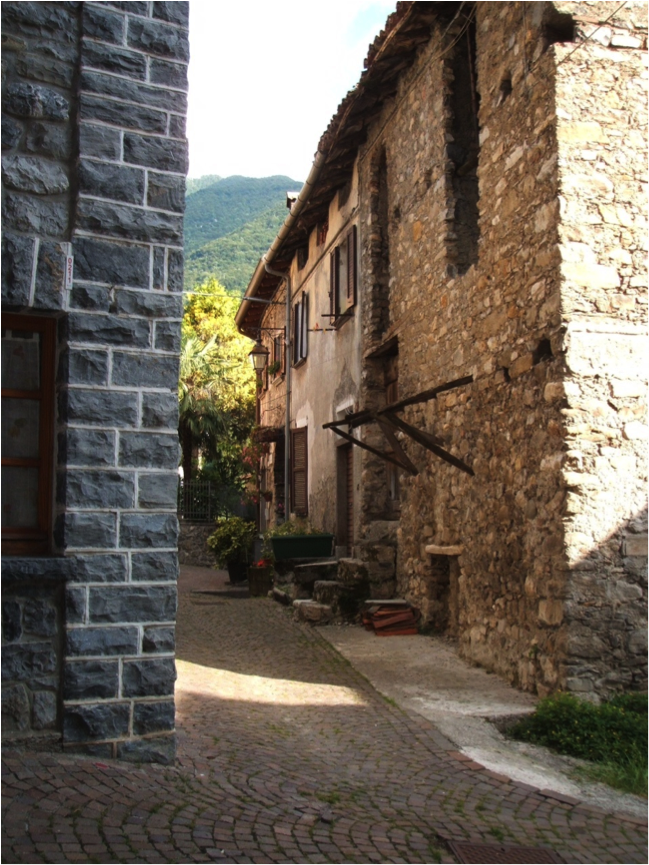 Alessandra is Italian and French; with a French mother and an Italian father she has been fluent in both languages since childhood (as well as having perfect English!)  I love this since I eventually want to speak French too.
After the amazing time I had there, I encouraged my husband to study with me and we went back the following year.  It was like seeing a very old and dear friend!
In September, I was in a bad car accident and had a concussion.  I had trouble putting words together and took 2 months off from my lessons.  When I returned, I was so frustrated that I couldn't remember Italian anymore.  I felt bad for Alessandra too, as she had to start over with me.  She wasn't upset or worried at all – she just encouraged me to keep trying, and helped me stay calm and relaxed. It's been several months now, and I am doing much better and almost back to where I ended before.  No one will ever know how much I appreciated her support!  I am now planning yet another trip to Esino to study more Italian!
Alessandra is a valued teacher here at Listen & Learn. If you are interested in taking Italian (or French!), or staying in her flat in Italy while learning, please contact Listen & Learn stating Alessandra's name in the comments box.