If Disney Princesses Were Filipina
Disney princesses have been re-imagined by many a fan artist over the years.
You have your real life, your Renaissance, and your realistic relatable millennials. For diversity, you have Disney as dudes and different ethnicities. And under the category of perhaps what were you thinking, you have cement mixers, Minions, and X-Men. We also hear that Disney princesses have been re-imagined as Miley Cyrus, Britney Spears, and most terrifyingly, hipsters; we're just not brave enough to go and check that for ourselves.
Now: why would this subject be of interest to a travel and language blog, perhaps you are asking? Patience, our young padawans, patience.
Firstly, don't judge…
…We love languages and luscious locations as much as ever, and that won't be changing any time soon. But, we also like to think that we are well-rounded individuals, and have a wealth of other interests as well.
Secondly, let's hear it for the fan artists, who share more than just their incredible talent with us on sites such as DeviantArt and Tumblr. Characters we know and love in different settings telling the same but different stories – if that isn't a talking point that gets many a multi-lingual tongue wagging and a whole lot of communication happening around the world, then frankly, we don't know what is.
And thirdly, because we love the Twitter hashtag #IfDisneyPrincessesWerePinay.
Let's explain that a little further.
The hashtag #IfDisneyPrincessesWerePinay has been around for a while now, and is, in effect, a multi-faceted marvel of re-imagination. In essence, through social media and real, relatable Tweets and posts, Disney princesses are brought to life as though they are Filipina.
From princesses singing karaoke to Snow White being tempted by a poisoned mango rather than an apple, there are snippets of life in the Philippines being made recognizable by some of our most favorite of characters. Here are some of the best Tweets we have seen.
Firstly, a geography lesson
Typhoon Koppua in October 2015 was utterly devastating, leaving a trail of death and destruction in its wake. The potential for flooding in the Philippines is high, with regular typhoons and tropical storms: we're not sure Elsa is to blame though:

The Philippines is an archipelago of more than 7100 islands, and most of these islands are volcanic. 18 of the 37 volcanoes in the Philippines are active, and again, with a nod to Frozen, Tweeters pointed out that in place of snow storms there might be ash instead…

Learning a new language? Check out our free placement test to see how your level measures up!
Let's get a little topical
There is always some kind of conflict when it comes to staking a claim for our favorite characters, and apparently Mulan is the lucky princess this time around.

The cynical amongst us might have whispered something about mail order brides:

And the more compassionate raise awareness for the plight of the Filipina Overseas Foreign Worker (OFW)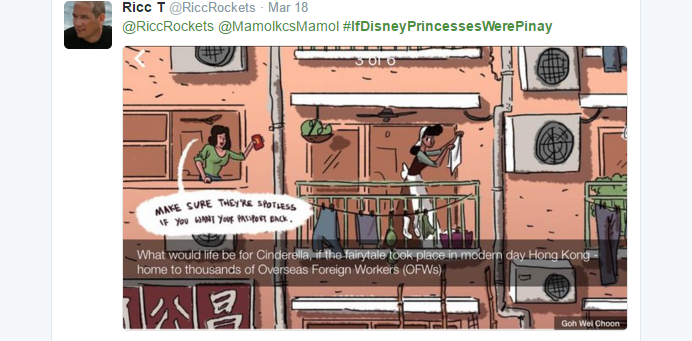 Product placement
Let us move on from politics and take a quick stop in the world of the Filipino economy: who says a travel blog can't show its smarts?
The top five most popular brands sold in the Philippines currently are:
            Lucky Me (noodles)
            Nescafe
            Surf
            Palmolive
            Milo (¨powdered chocolate energy drink¨ from Nestle)
Apparently Rapunzel could be the face of number 4 in that list.

Sardinas – sardines, are a popular source of food in the Philippines, especially for those on a lower budget since they are relatively cheap to buy. There are a lot of inappropriate comments on Twitter about Ariel being served up as lunch, so we will skip past them and instead just go with this one that recognizes Ariel's potential to increase product sales.

Lastly, one of the most popular beauty items you can purchase in the Philippines is one of the many forms of whitening product available for your skin: who better to be the figurehead of such a product than Snow White herself?

Life observations
Since keeping your skin pale in the Philippines is seen by some as an essential, you will often find the most graceful of ladies beneath an umbrella at the mere hint of sun.

Filipino people are known for being laid-back, friendly individuals, and we are not sure if this is why there is such a big deal about everything taking so much time to do in the Philippines.

Traffic is a huge problem in the Philippines, so much so that it is estimated Manila could be uninhabitable within four years if drastic measures aren't taken to resolve the traffic issue. Cinderella absolutely will not be making it to the ball on time if she is living in Manila.

We shudder at the thought of a magic carpet being replaced with lino…

…so much so that we think we'll join Gaston.

And finally, Belle would be a girl after our own hearts:

I can show you the world Philippines…
Choose Philippines, the tourism website for the country, have used Disney Channel Asia's posters of Filipino celebrities portraying Disney Princesses as part of their tourism campaign: we agree that Sarah Geronimo would make an excellent Rapunzel, and Kim Chiu a truly magical Mulan.
If the lure of Disney princesses isn't enough, we'd cite the people, Malapascua Island, The Chocolate Hills, the beaches, the diving opportunities, the incredibly cheap liquor, and this little fella:
…as some of our other favorite reasons to visit the Philippines. We're half-tempted to start packing now, in fact. What are you waiting for?