Part II: 3 Stunning Latin American Destinations for Budget Travelers
If you've got a major case of wanderlust and a seriously limited budget, you might think an international vacation is out of the question. But that couldn't be further from the truth! Earlier this month we wrote about some of our favorite budget-friendly travel destinations in this Listen & Learn blog post, and today we're sharing three more. Latin America is full of totally worthy spots that you can reach in less than a day's travel. Make sure you read on and do some research about these incredible places in the Spanish-speaking countries of Latin America:

Arequipa, Peru
1 USD = 3 Peruvian Nuevo Soles
Accommodations: While you'll have your choice of many clean and welcoming hostels in Arequipa, you can't beat the location of the Hostal Villa Melgar, which is near everything that's happening downtown and is surrounded by historical–and stunningly beautiful–buildings. Depending on the time of year you visit, you may be fortunate enough to snag a private room for about $20.
Drink & Food: There's no need to go fancy when it comes to dining out. As you walk around the lovely "White City" you'll see plenty of casual pollo a la brasa restaurants. Choose any of them that looks crowded with locals. You'll get a generous portion of chicken, French fries, and a variety of dipping sauces that bring the heat. Expect to eat well for less than $10.
Language Tip: French fries are known as "papitas," or "little potatoes" in Peru. They are always served alongside "pollo a la brasa," which I guarantee is better than any rotisserie chicken you've had in the States.
Transportation: Getting around in Peru is a breeze, thanks to a robust bus network. You can save yourself around $80 and enjoy a wonderfully scenic route by taking the journey from capital Lima to Arequipa via bus instead of airplane. Locally, jump on a combi, which is half van/half bus, and you'll pay less than a dollar to get between one neighborhood and another.
Practically free activity: Spend a day hanging out in the Plaza de Armas, or main square. People-watching is at its best here, and you'll get a real feel for the rhythm of daily life in this bustling city. Visit La Catedral, at the head of the plaza, and pay a nominal fee to enter the on-site museum where you'll see impressive artwork and collectibles from seemingly ancient times.
Your one big splurge: Get adventurous and sign up for a rafting tour down the Chili River with a guide from Cusipata. Tours take about 3 hours total, with you spending an hour and half navigating Class I-IV rapids in addition to taking a scenic drive through the Chilina Valley.
Daily Budget: $60-$80
Managua, Nicaragua
1 USD = 25 Nicaraguan Córdoba
Accommodations: Managua Hills is a charming bed and breakfast that provides budget travelers with lots of little perks that can make all the difference. Great water pressure, hot water showers, freshly made breakfast, and help coordinating airport and other transportation needs all come standard.
Drink & Food: Nicaragua is not known for a varied cuisine. Eat a plate of rice and beans with eggs and toast for breakfast every morning, and for about $4 you'll be fueled up and ready for a busy day.
Language Tip: Rice and beans are mixed with cilantro, onions, and a handful of other fresh ingredients to make a dish called "gallo pinto." This is a staple in local cuisine and can be a bone of contention between Nicaraguans and Costa Ricans–both of whom claim it as their own creation. Fried eggs are "huevos fritos" and scrambled are "revuelto."
Transportation: Choose reliable taxis that are recommended by your hotel or buses that are part of a well known company like TransNica. Don't go in unmarked taxis or any other form of transportation that seems questionable. And make a point of riding on a rickshaw or two while vacationing here.
Practically free activity: Laguna de Apoyo is the perfect place to spend a mellow day by the water. This unique lake occupies a hollowed volcano crater. Pay about $10 to access area beaches and get a comfy chair in the sand for the day. Bring a book–or even better, grab a copy of the local newspaper before you come so you can practice your Spanish skills by catching some rays.
Your one big splurge: Book a personal tour and spend the day learning about the highlights of this often overlooked city. Ceiba Tour gets rave reviews for their extensive knowledge of the area, great customer service, and overall friendly demeanor with guests.
Daily Budget: $60-$80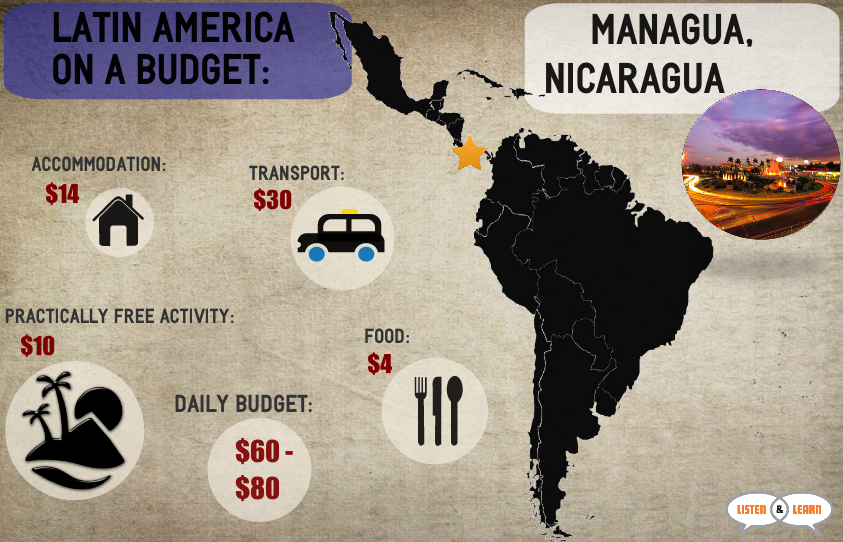 Cali, Colombia
1 USD = 1800 Colombian Pesos
Accommodations: One of the perks you'll most enjoy while staying at Hostal Encuentro is the rooftop restaurant and terrace where you can scope out the city and the beautiful mountains that surround it. The hostel is conveniently located within walking distance to lots of local attractions you'll want to visit while vacationing in Cali.
Drink & Food: Go for a lighter, meat-free meal at vegetarian restaurant El Buen Alimento. They offer a daily special for around $8, and popular menu items include stir fry and garbanzo-sesame seed burgers. The San Antonio neighborhood where this casual restaurant is located has a noticeably bohemian feel to it that will enhance your visit to the area.
Language Tip: If you have a hard time handling your liquor, be cautious of the omnipresent "aguardiente" you'll find throughout Colombia. At a mere $6 per bottle, it's clearly the most economical way to enjoy a drink. While dancing the night away at a salsa club try a cocktail made with this "fiery water," but drink too much and you better be prepared for a "guayabo"–or hangover–the next day.
Transportation: Cali boasts an impressively modern and clean bus system called MIO, short for Masivo Integrado de Occidente. You'll pay about a dollar per ride between major points throughout the city and get to see things from a great vantage point. There are clearly identified MIO stations in a network of newly built and renovated walkways, pedestrian bridges, and an overall network that connects different neighborhoods and suburban areas of the city.
Practically free activity: Gato de Tejada is a public art installation surrounded by a dozen cat sculptures in a lovely little park right by the Cali River. Follow the trails and put your Spanish skills to the test as you read the informative signage to learn more about the project. If you're out on a hot day, treat yourself to a cone from a neighboring ice cream shop.
Your one big splurge: Visit Delirio for an out-of-this-world performance that's part circus, part theater, part variety show. You're bound to develop a newfound appreciation and enthusiasm for salsa dancing and will leave ready to bust out your dancing shoes and hit up one of the local discos.
Daily Budget: $80-$100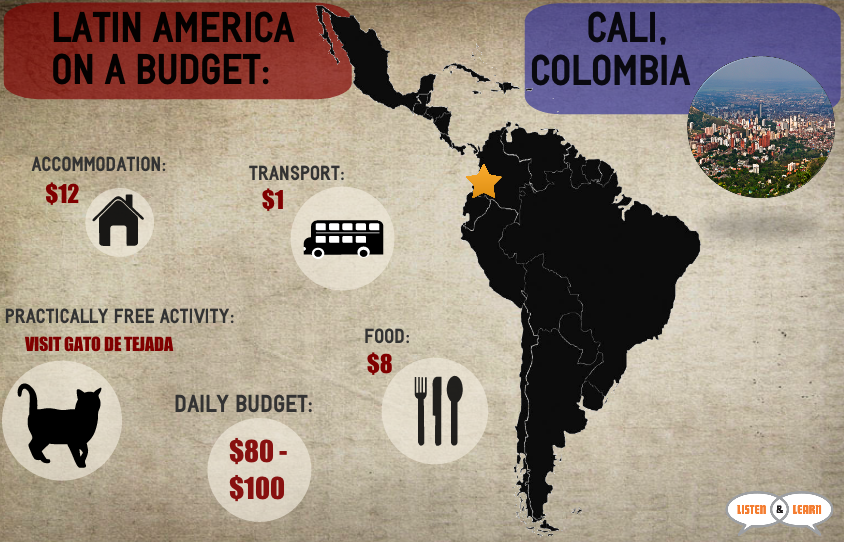 If you're gearing up for a trip to any of these Spanish-speaking destinations, make sure your Español is in good shape. Contact us today and we'll get you signed up for one-on-one or small group lessons to make sure you're ready for the trip. And if you've got more budget-friendly tips to share with our readers who are heading to Arequipa, Managua, or Cali, be sure to send them our way in the comments section below. ¡A viajar!