Top 40 Chicago Words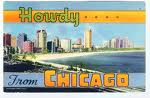 A fun article from Chicagomag.com explores the influence Chicago has had on the English language with a list of its Top 40 contributions.
Honestly, some of the words I've never heard of (simonize, for example), but that could be because I'm not American. Others are very familiar – puh-leaze is probably the word I most use from the list, and it's interesting to see the origin.
Here are some other contributions that caught my eye:
24. razzmatazz The Chicago writer George Ade first used this word in 1899, in an un-doubled-z version, as a personification of the flu: "Mr. Grip Razmataz." The next year, he used it again in what is probably the first instance of its current meaning: showy, stylish, or dazzling.

17. props Due respect. A product of rap music, "props" first appeared in a quotation from the 19-year-old rapper Roxane Shante in the July 29, 1990, edition of the Tribune.

5. American dream First print reference (in its usual sense) from the Tribune, February 7, 1916: "If the American idea, the American hope, the American dream, and the structures which Americans have erected are not worth fighting for to maintain and protect, they were not worth fighting for to establish."
Can you think of any words or phrases that originate in your city?
Image from the Chicago Postcard Museum