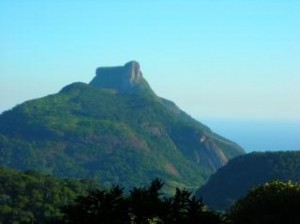 When most people think of Brazil they imagine never-ending parties, scantily clad women dancing in the street, and miles of crowded beaches. While it's certainly easy to find all of those things, there are plenty of kid-friendly activities that make it an excellent destination for families, too. If you're thinking about booking a family vacation to Rio de Janeiro, you'll want to check out these 5 great kid-friendly spots:
1. Avenida Atlantica
This fun stretch along Copacabana Beach is an ideal spot for people watching. The kids will be happy drinking cold coconut water straight out of the coconut, eating ice cream and other vendor treats, and, of course, getting in plenty of swimming and beach play. Clean restrooms are available at a small fee and it's easy to pop into a number of casual restaurants or buy from local kiosks whenever someone in the family gets hungry. If you're looking for a low-stress day of fun and relaxation on the beach, Avenida Atlantica is the place to go.
2. Catacumba Park
This modest attraction has a small rock climbing wall, a zipline, and kid-sized obstacle course. Depending on your family's pace, you may take 20 minutes or as much as an hour hiking through the park to reach a lookout point that gives great views over the city below. The trail goes right through rain forest and has informational signs in English along the way.
3. Duque de Caxias Fort
This somewhat undiscovered attraction is located right off Rio's famous Ipanema Beach. At about $4, the entry fee makes it a good option for even those who are on a tight budget. Walk the uphill trail through lush plants and trees and be sure to look out for animals around you. The real reward is at the end of the trail, where you'll see incredible views of beaches, mountains, and the Christ the Redeemer statue. Older kids will like seeing canons and some other military artifacts along the way. Take a picnic lunch to make the most of your visit.
4. Lagoa Rodrigo de Freitas
This popular hangout spot is great for families and active individuals. Families will want to take a spin on a giant swan paddleboat around the lake. Mom and Dad can appreciate a refreshing caipirinha and the kids have plenty of treats to choose from thanks to the numerous lakeside kiosks and vendors. If you're lucky enough to see a band or other performer setting up for a show, grab a spot on the grass and settle in for a relaxing nighttime performance the whole family can enjoy.
5. Sugarloaf Mountain
 The cable car ride to Rio's famous Sugarloaf Mountain is a not-to-be-missed attraction in Brazil. While it can make for a long day with little ones, nearly every child from preschoolers to high-schoolers will get a kick out of what is, for many, a once-in-a-lifetime experience. In order to make it the most enjoyable experience for you and your kids, go on a weekday and arrive before 8am. Plan this activity to be a leisurely day instead of just a race to the top and back again. Hike the marked trails and enjoy lunch at the onsite restaurant. If you're lucky, you may spot a troupe of wild marmoset monkeys and other local wildlife.
If you're thinking about planning a vacation to Brazil this year, you'll want to take a little time to learn some Portuguese basics before you go. Your spouse and kids will thank you when it's time to get a cab or when you need to ask a street vendor how much something costs! To learn more about the language learning options near you, contact the team at Listen & Learn. And if you've already been to Rio de Janeiro with your kids and have some insider secrets, be sure to share them with our readers in the comments section below!