WordReference Spanish: 4 Ways to Make the Most of this Amazing Website
When it comes to Spanish vocabulary learning, WordReference Spanish is, well, a reference point for most people. WordReference offers an extensive Spanish-English dictionary, of course, but unlike traditional dictionaries, this website goes even further in helping English speakers learn Spanish vocabulary by including rare or informal usage of Spanish words; clear, up-to-date sample sentences; and even a forum where users can ask questions about Spanish grammar, pronunciation, and slang.
Are you looking for the best way to take your Spanish vocabulary learning journey to the next level?
Here are 4 ways in which WordReference Spanish can help you.
→Sign Up Now: Free Trial Spanish Lesson With a Native Teacher!←
WordReference Spanish: The Best Bilingual Dictionary
Firstly, WordReference Spanish is used by millions of people as a dictionary. Most people who visit the website do it to get help with translating a term or expression from English into Spanish or vice versa. A hardly surprising fact given how thorough the website is.
WordReference's bilingual dictionary is one of the most comprehensive online, containing millions of words and phrases, including phrasal verbs, abbreviations, and even slang terms.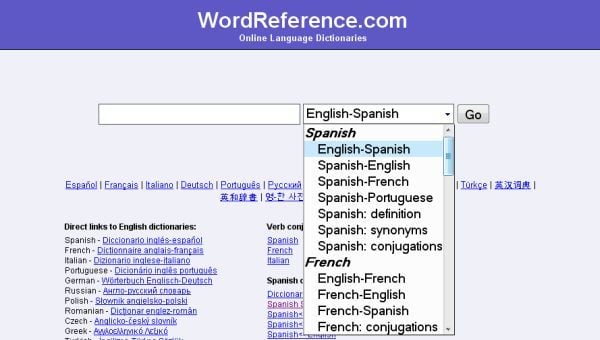 WordReference Spanish, via Pinterest.
Whether you want to learn how to say something in Spanish or you want to know the English translation of a Spanish term you've come across on the Internet, WordReference Spanish can help you find the answer.
But, as every language learner knows, reading the definition of a word or translating it into your own language is not enough to make it memorable. That is why WordReference provides short, clear, relatable sentences in both languages to illustrate the meaning and usage of the word or phrase in question.
How to use WordReference Spanish to learn Spanish vocabulary
Let's suppose you want to find a Spanish equivalent for the English expression "make a fuss".
All you have to do is type the phrase into the search bar of the Spanish-English section and WordReference will instantly provide you with lots of useful information, namely:
The definition of the phrase in English: (informal) complain about [sth]
Common Spanish equivalents: armar un escándalo, montar un alboroto
Regional variants: Spain (colloquial): montar un pollo
A sample sentence in both languages:
Oh, it's only a grazed knee – don't make a fuss!
Es solo un raspón en la rodilla; ¡no hagas un escándalo!
Use WordReference Spanish to Find Synonyms
Unlike verb conjugations and other grammatical rules, Spanish vocabulary learning is generally simple if you know what word type you're dealing with.
If you want to make your vocabulary more colorful and less reliant on basic, boring choices, WordReference can help you find alternative words and phrases in Spanish that express the same concept but with different nuances, so you can make your language sound more natural and varied.
How to use WordReference in Spanish to discover new Spanish words
Let's imagine, for instance, that you're writing a love letter to your Spanish-speaking girlfriend.
By now, I'm sure you've told her a thousand times how beautiful she is. So what if instead of saying "hermosa" (beautiful), you could use words like gorgeous, stunning or dazzling this time?
All you have to do is look up the word  "hermosa" (or whatever boring option you're using!) and you'll find a list of synonyms like "bonita" (pretty), "espléndida" (splendid) or "deslumbrante" (dazzling).
The great thing about Spanish vocabulary learning is that, as we mentioned above, as long as you know what type of word you're dealing with (in this case, an adjective) you can just replace it with a synonym and you won't lose the meaning of your sentence!
So go ahead and surprise your readers with your splendid vocabulary choices.
Use WordReference Spanish to Learn Spanish Grammar
Without a doubt, one of the most challenging aspects of learning Spanish is verb conjugation.
What do I mean? Well, let's just compare the conjugations for the past simple form of the verb 'work' in English and Spanish.
I worked
You worked
He/She/It worked
We worked
You worked
They worked
Yo trabajé
Tú trabajaste
Ella/Él trabajó
Nosotros trabajamos
Ustedes trabajaron
Ellos trabajaron
One English conjugation vs. five Spanish ones! Isn't that amazing? (And intimidating…?)
Luckily, WordReference in Spanish can help you out.
How? Easy. Just type in the infinitive form of the verb and WordReference Spanish will provide you with a comprehensive table of all its conjugations in different tenses as well as a bunch of sample sentences.
How to make sure the conjugation of your Spanish verbs is correct
Let's say you are discussing your predictions for the future with a Spanish-speaking friend. To express your ideas, you will need to use the future simple form of verbs such as "trabajar" (work), and "live" (vivir). After all, you're talking about what you think will happen in the future.
All you need to do, then, is type the infinitive form of a verb, find the tense that you need, and choose the right conjugation for your subject.
Let's consider two examples.
Trabajar (work): Future simple, first person plural
In 20 years' time, we'll work 4 times a week.
En 20 años, trabajaremos 4 veces a la semana.
Vivir (live): Future simple, first person singular.
When I am older, I'll live in the countryside.
Cuando sea viejo, viviré en el campo.
Use WordReference in Spanish to Interact with Native Speakers
Last but not least, WordReference can also be used to get answers to your language-related questions.
You know thart, when it comes to mastering a language, there is no substitute for interaction with native speakers of the language you're learning.
In the WordReference forums, users ask each other things such as:
"Is there any way of saying [term] in your language?"
"I don't understand how to use the word [term] in your language? Can you give me a few examples?"
"Is there a more formal way of saying [term] in your language?"
How to Solve your most burning questions about Spanish
One of the most popular entries in the Spanish vocabulary learning thread this month is about the expression 'llamar la atención de alguien' (catch someone's attention).
The original poster wanted to know if there was any difference in meaning between 'llamar la atención de alguien' and 'llamarle la atención a alguien'. He had heard both versions in different contexts and he had sensed there was a differnce.
It turns out his intuition was right.
In Spanish, 'llamar la atención de alguien' means catch someone's attention in the sense of being attractive or impressive for them. Meanwhile, 'llamarle la atención a alguien' means to make someone realize they are wrong or behaving inappropriately. Did you know this?
WordReference Spanish: FAQs
1. Can you download WordReference Spanish?
Sure. WordReference offers a downloadable app version of its dictionary for mobile devices. WordReference is available on Google Play for Android and the App Store for iPhone and iPad.
2. Is WordReference free?
Yes, WordReference is free to use online and all of its basic features can be accessed without any cost. You can just download the free WordReference app on your smartphone or access the website from your favorite device.
3. Is WordReference reliable?
Definitely. WordReference in Spanish is considered to be a very reliable source for language translations. It has been around since 1997 and provides accurate translations from English to Spanish and other languages. The team behind WordReference has a strong commitment to providing users with quality content and they continually update the dictionary database with new words and definitions.
→Sign Up Now: Free Trial Spanish Lesson With a Native Teacher!←
As you can see, there are many words in which WordReference in Spanish can make Spanish vocabulary learning easy, effective, and interactive.
However, if you want to take your Spanish vocabulary learning to the next level, we suggest going the extra mile. And what's the best thing you can do to learn faster? Signing up for a Spanish course, of course!
By taking personalized Spanish lessons, you will be able to learn Spanish vocabulary quickly and effectively while mastering the grammar, pronunciation and accent, and get expert feedback from a native language instructor.
So, what are you waiting for? Get in touch with us now and go beyond the benefits of WordReference Spanish! Our experienced teachers will help you get to grips with Spanish grammar and vocabulary and hone your pronunciation skills. Most importantly, they will help you achieve your language goals!
Reach out to us today to get started. ¡Hasta pronto!