5 Insider Secrets on Raising a Child With a Peruvian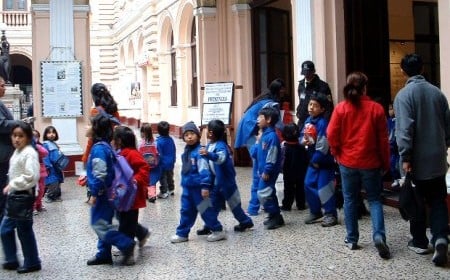 Congratulations, you've found the love of your life and he or she happens to be Peruvian (it looks like you and I have something in common!) Peruvian culture is warm and welcoming, and we're among the lucky ones who have been adopted into this incredible world. When it's time to start raising a family with your Peruvian partner, there are a few things you should know in advance. Here are 5 secret facts you'll want to be aware of before taking the plunge.
1) Your partner's parents will tell you how to raise your child.
Think your in-laws meddle in your business already? Just wait until you have a child with your Peruvian partner! You'll get even more advice—and instructions—on how to raise your child and run your household. It's important to set boundaries and do things your own way, but remember that your partner's family is giving advice to be helpful and show their love.
2) Your children may be treated differently depending on their gender.
While modern Peruvians are forward thinkers, many of whom fully believe in gender equality, there are lots of traces of past beliefs still present today. If your partner is a Peruvian, you've no doubt seen behaviors that seem, shall we say…outdated. Some things a Peruvian man does can be called chivalrous, while others are downright macho. Likewise, a Peruvian woman may depend on her man to do all the heavy lifting (literally) in the relationship. Know that your children may be treated differently by Peruvian family members depending on their gender.
3) Your children will learn some bad words.
Peruvians are known for being a lively bunch, and that can translate to adult phrases and words weaving their way into everyday conversations. Don't expect that to change when you start a family, because it won't. Chances are pretty good that your child will grow up hearing words in Spanish that you wouldn't dream of saying in front of them in English.
4) You'll have an added advantage when it comes to language instruction.
Learning a language as a child is natural and easy, and your kids will be able to learn both English and Spanish simultaneously. This gives them an added advantage in the classroom and in life, so make sure both you and your partner pass on your knowledge to your children. By growing up in a bilingual household your children will learn not only how to speak the language, but how to relate to and fit in with multiple cultures.
5) Your in-laws will expect to see your child a lot.
If you live within driving distance of your in-laws, get ready for lots of company once your baby arrives. It's very possible that they'll show up unannounced and at all hours of the day and night. Don't be surprised to find them on your doorstop at 6:30 on a Saturday morning or at 10pm on a Tuesday night. With a Peruvian family, no visit is an unwelcome one! Your in-laws may stop by for 10 minutes or could settle in for a few hours, whether you're ready for company or not.
***
When dealing with the in-laws, the naughty words you child might learn and the issue of raising them as bilingual, it might be a good idea to brush up on your Spanish skills before welcoming a new baby with your Peruvian partner! Let us know whether you have had to overcome any cultural differences while raising a child!