8 Top French TV Shows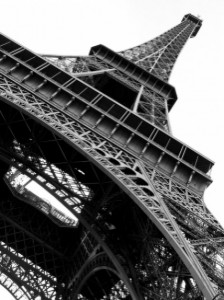 Watching foreign TV is a terrific way to improve your language skills, see how simulated everyday communication unfolds, and learn more about the French culture and way of life.
Whether you are learning the lingo or simply interested in French TV, here are some of the best French TV shows to watch:
1. Asterix
Although a children's cartoon, Asterix is both fun and informative.  The simple language makes it a perfect choice for beginners and those who think they would quickly lose interest if presented with something that is more of a challenge. Join Asterix on his adventures and enjoy this French cartoon. There is even a theme park dedicated to the character and his tales in Paris, so if you really get engrossed you can head off for a few days of youthful glee!
2. Qui Veut Gagner des Millions?
A quiz show, it translates to Who Wants to Win Millions.  You can watch the contestants as their confidence swells and dips, whilst trying to answer the questions yourself.  Combining general knowledge and cultural questions, you are sure to know some of the answers.  You can also learn a lot about the country as well as improving your vocabulary.  The earlier questions are easier, and they gradually increase in difficulty.  Multiple-choice answers are provided, making it even easier for you to play along.
3. Engrenages
If you are into crime and suspense shows, you are sure to love Engrengages.  Set in Paris, it follows various nail-biting criminal investigations, examining all possibilities and taking into account all points of view.  It can be pretty intense!
4. Belle et Sebastien
A classic French show from the 1960s, Belle et Sebastien is a favorite French series.  You can join a young boy and his dog on their varied adventures in a small mountain village.  Set in the Pyrenees, it also contains some really beautiful scenic shots.
5. Oggy et les Cafards
With a short running time, this is a great way to regularly watch some light hearted and comical French family TV.  It tells the tale of Oggy the cat and three cockroach invaders.
6. Maison Close
A period drama set in Paris in the early 1870s, Maison Close recounts the story of women lured and trapped in a lavish and opulent brothel.
7. La Petite Vie
Translating into the small life, La Petite Vie is a great choice for anyone wanting to get to grips with the thick Quebec accent.  Often said to be one of Quebec's best sitcoms, it mixes humor with true-life events.
8. Sous le Soleil
Sous le Soleil, or under the sun, is a romantic show, guaranteed to melt even the hardest of hearts!  It is completely appropriate for those wanting to learn one of the most romantic languages in the world!
There are many great French movies to also consider for one off evenings of entertainment.  Known for their creativity and artistry, French movies are renowned for being in a class of their own.
Take some classes to help you understand your favorite French shows with greater ease, perhaps pop the cork from a good bottle of French wine, and settle down to watch some terrific French television.