A Beginner's Guide to Oktoberfest: 10 Facts You Probably Didn't Know
For those who love beer, it's time to celebrate! Oktoberfest is here, and whether your plans include making the trek to Germany or just celebrating in the comfort of your own neighborhood bar, you probably have beer on the brain. But when it comes to Oktoberfest, there's a whole lot more going on that just drinking.

Okay, okay, beer is certainly the main attraction, but do you even know much about these specially selected brews, other than the fact that they're served up in over-sized glass mugs? If your knowledge on the subject is limited, keep reading. Then, after you've had a few drinks celebrating the occasion with your friends, you can impress them with your limitless knowledge about one of the largest festivals in the world: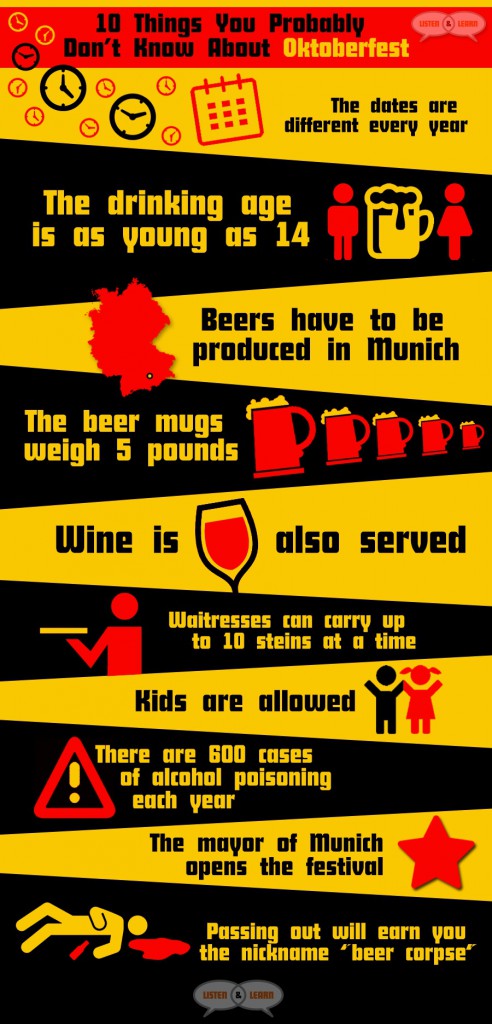 1. The dates are different every year.
Oktoberfest starts the Saturday after September 15 each year and lasts between 16 and 18 days, ensuring that it doesn't end until the month of October starts.
2. The drinking age is as young as 14 in Germany.
Kids as young as 14 are legally allowed to drink beer and wine when accompanied by an adult and 16 when drinking solo.
3. Beers served at Oktoberfest must be produced in Munich.
Festival organizers are picky when it comes to selecting the beer that is served on the official Oktoberfest grounds, and all of those that make the cut are made within Munich city limits.
4. A filled Oktoberfest mug weighs 5 pounds.
Each of the official Oktoberfest mugs holds 1 liter of beer and weighs in at a whopping 5 pounds–which means those Bavarian waitresses are seriously strong!
5. Oktoberfest waitresses routinely carry 10 glaskrugs at a time.
The world record for Oktoberfest beer service is held by a Bavarian waitress who can carry 19 full steins!
6. Kids are allowed to attend.
Despite its reputation for being one big party, there are lots of kid-friendly attractions that take place at Oktoberfest, including a parade, carnival rides, and plenty of food vendors. However, due to the heavy night-time drinking, children under the age of six are supposed to leave by 8pm.
7. The Red Cross treats some 600-plus guests with alcohol poisoning each year.
About 7,000 guests receive medical attention for other issues, primarily cuts due to broken glass.
8. The government gets in on the fun.
Oktoberfest begins when the first barrel of beer is opened and the mayor of Munich shouts "O' zapft is," which means "It's tapped!" The first beer of the festival is served to the Minister-President of the State of Bavaria.
9. Wine is also served.
While beer is the main attraction, festival organizers also set up a wine tent to ensure those who prefer grape-based libations enjoy their visit.
10. Passing out earns you a nickname from the masses.
Those who celebrate a little too much are called bierleichen, or "beer corpses" by everyone who manages to stay on two feet.
Make sure you're fully prepared for the rowdy festival with our tips on how to survive Oktoberfest, as well as taking a look at the top places to crash while you're there. And, of course, if you're ready to learn some German and prepare yourself for this (or next) year's Oktoberfest, be sure to contact us. Prost!