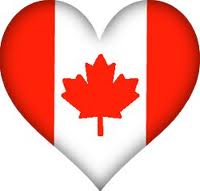 I may be a little bit late jumping on this bandwagon, but it's Canadian English month over at the Macmillan dictionary blog!
The blog has a continuing series called 'live English', and in the past have had American, South African and Brazilian English months, amongst others. Since our Canuck friends rarely get featured (anywhere), it's nice to see them get some recognition.
I lived in Canada for a year and was interested to find that their English is a mixture of American and British with a dash of something unique. Whilst I lived in two of the major Canadian cities during my time, I also got the chance to travel to the Maritimes where the English spoken is slightly different from the rest of the country, as highlighted in this post.
My big tip for anyone Canada-bound: learn what a Tim Horton's is. You won't regret it!