Full moon names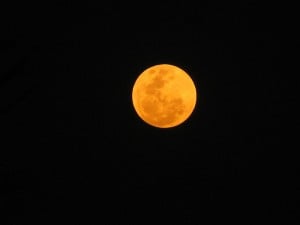 Mark this on the list of "things I didn't know": Full moons have names!
According to a post on Space.com, this tradition dates back a few hundred years, to Native Americans of what is now the northern and eastern United States, who gave names to moons in order to keep track of seasons. The name given to the moon was applied to the full month in which it appeared. European settlers followed this custom, and also created their own names.
Here are the names and times for the next couple of months:
May 5, 11:35 p.m. EDT — Full Flower Moon.  Flowers are abundant everywhere at this time. May's full moon was also known as the Full Corn Planting Moon or the Milk Moon. The moon will also be at perigee just 25 minutes after turning full, at 12:00 a.m. EDT on May 6, at a distance of 221,801 miles (356,955 kilometers) from Earth. Very high ocean tides can be expected from the coincidence of perigee with the full moon.
Jun. 4, 7:12 a.m. EDT — Full Strawberry Moon.  Known to every Algonquin tribe, Europeans called it the Rose Moon. A partial eclipse of the moon will be visible chiefly favoring those living around the Pacific Rim. Observers in Japan and Australia for instance, can see it at, or soon after, moonrise, while those in the western United States and western Canada see it at, or just before, moonset.  At maximum, about 37 percent of the moon's diameter will be immersed in the dark umbra shadow of the Earth.
What would you name the moon for the month of your birth?
Full moon image from netlancer2006 under the Flickr Creative Commons Licence.