Get a call from Santa!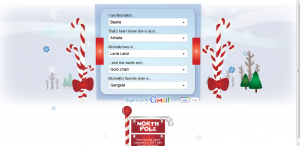 What better gift to give someone than their own personal call from Santa?!
Google can help – with its Send a Call from Santa site you can send a customised voicemail message to anyone you like! They have some pretty funny combinations as well – take a look at the picture. You can also listen to a sample message.
You can also let Santa know what you'd like for Christmas by calling him on his Google Voice number – 855-34-SANTA (855 347-2682) and leaving a message. Apparently he'll be too busy to get back to you though!
Who will you get Santa to call?