Happy New Year!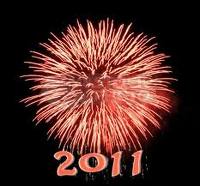 I hope everyone had happy holidays and you all are ready to get started with language learning again!
I don't normally make New Year's resolutions because, let's be honest, they normally fail by the end of January (if not earlier). This year though, I've made a couple of resolutions that I hope are honest and achievable.
My first resolution is to attend beginners Spanish classes. I lived in Spain for a short while in 2009 and made a little progress with the language but during 2010 I let this slide and have forgotten much of what I learned. As I would like to take a trip to South America in the next year, I really need to go back and start from scratch.
My second resolution is to progress from beginners Spanish to beginner/intermediate by the end of the year. Hopefully this goal will mean I progress fairly quickly in the beginners class, with the aim of being able to speak basic sentences in order to progress to a more intermediate level. Of course, I will need to discuss this goal with my teacher and put in lots of time and effort!
Hopefully it will help to write down my goals, review and revise them throughout the year. Goal setting is a great way to measure your progress in learning a language, whether you do this individually or in conjunction with a teacher. Once I have started classes, I hope to add to this resolution/goal list with some more specific items – "I will complete my Spanish homework every Thursday evening" for example.
What are your language learning goals?