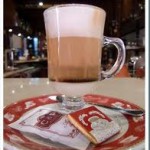 It's National Coffee Day, and over at Wordnik they're celebrating by exploring the words we use for different types of coffee.
According to the National Coffee Day website, there are 111 million coffee drinkers around the world who consume 440 billion cups per year. To be honest, I'm not normally one of them. However, when I lived in the Canary Islands for a short time, I got hooked on the barraquito.
A barraquito is served in a glass and consists of three layers; sweet condensed milk (minimum 10% fat), espresso and milk froth. Sometimes it also contains a shot of brandy or some cinnamon on top. I've got quite a sweet tooth so this was perfect for me as I dislike the bitterness of normal coffee drinks. It's very cheap to buy too!
It's amazing the number of words we have for different types of coffee and how they differ from country to country. What's your favourite coffee?