Right Swiping Your Way to a Second Language
Allow me to introduce myself:
My name is Aaron and I am an American living and studying in Barcelona, Spain.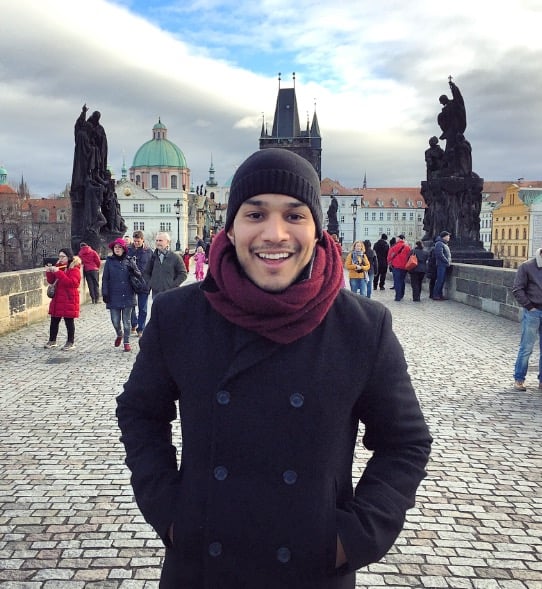 Ever since moving abroad, my answer to the inescapable "de donde eres" question has strategically shifted from 'the U.S.' to 'California.' I must admit, it's a great strategy. As soon as the word leaves my lips, smiles ensue. The Golden State truly is a golden word that invites much more, well, pleasant and often hilarious queries, like…
"OMG do you surf?"
Or
"Why would you ever leave Cali?" (People who aren't from California love saying Cali)
And
"Why Barcelona? What do you love about it here?"
My answer is always the same: options.
Barcelona offers so many options. Whether it's visiting an art exhibit or museum, sunbathing on the beach with friends, catching an outdoor movie on Montjuic, or dancing the night away at a free concert, Barcelona is a cultural and social goldmine. Throw in the fact that the most expensive event I listed will cost you a whopping six Euro and you can start to see why I'm on the constant lookout for a wife with an EU passport. I never want to leave.
Unfortunately, for those who come to immerse themselves in a second language, speaking Spanish is also an option in this great city by the sea. One of the most popular tourist destinations in all of Europe, Barcelona is teeming with English speakers and a local population whose native tongue is Catalan, not Castellano (Castilian Spanish). Even the courses at my university, Pompeu Fabra, named after the linguist who developed the Catalan language, were offered in English.
Want to check your skill level before heading overseas for study? Take a free placement test to see how your level measures up!
One month into my stay I realized that if I wanted to improve my Spanish I would need to make a conscious effort to capitalize on every speaking opportunity afforded. For some examples and tips on how to make the most of your language learning experience while abroad checkout fellow blogger Katie's post. As Katie alluded to in her piece, the most progress comes when stepping out of your comfort zone and staying there. And what's more uncomfortable than an awkward first date?
With over 50 million active users, Tinder is one of the most popular dating applications in the world. Let's pretend you've never heard of it so I can give you the basics.
Pulling bio information and pictures from Facebook, Tinder users sift through profiles in their vicinity, swiping their way to romance through their smartphones. A left swipe on a profile means that you are not interested or simply "nope." A right swipe signifies interest. When two users 'right swipe' each other, a 'match' is created and a lovely push notification is sent to your phone. The process is a bit shallow, I know, but I'd be lying if I didn't admit to doing a little dance every time my phone lights up and says "Congratulations! You have a new match."
No rookie to the dating app scene (I once met a girlfriend, now ex-girlfriend, through a similar app called Bumble. Heeey Nikki), I initially used Tinder to engage with other Americans living in or passing through Barcelona. While abroad, there is a level of comfort that comes from spending time with people from 'back home.' But in the spirit of growth, and like Katie already told you, FORGET your comfort.
Determined to shake off the shackles of complacency, I updated my Tinder profile, switching all of my bio text from English to Spanish. I began left swiping any user from the U.S. or England. I never thought my quest to perfect a second language would lead me down the dark path of racial profiling, but hey… by any means necessary, right? If I got a match, I made sure to always send my first message in Castellano, establishing my ability and desire to communicate in Spanish.
And it worked.
I soon found myself sipping café con leche and speaking Spanish through entire dates. Initially, I was a sweaty mess, stumbling over words as I struggled to communicate with the vocabulary of a nine year old. I'm sure the double shots of espresso didn't help. However, a couple of months into my Tinder experiment, I noticed that my confidence had greatly increased while speaking Spanish. I am proud to say that my vocabulary grew from that of a nine year old to the level of pubescent teenager, one awkward Tinder date at a time.
Interestingly, my language skills were not the only thing that Tinder helped to improve. As I connected with more local girls, my cultural experience in Barcelona was also enriched. I gained insight into Catalan traditions, cuisine, celebrations, and festivals. Catalans love their festivals. I've even managed to learn a bit of the Catalan language through the process.
Yesterday I was giving a tour through the Barrí Gótic (I give street art tours in the city center in an effort to support my Tinder coffee date habit), when I met a beautiful and very Ukranian looking gal by the name of Justina. I know, I know, racial profiling. Since Tinder has yet to teach me Ukrainian, I addressed Justina in English. Her face strained as I spoke, clearly struggling to interpret my Californian.
I stopped mid-sentence and asked, "Hablas Español?"
"Of course," she replied, relieved. "I feel much more comfortable speaking Spanish," she continued in perfect Castellano.
Surprised, I asked how she, a recent arrival from the Ukraine, had learned the language so fluently.
"My husband of course."
"Oh wow," I responded, "and how did you meet your husband?"
Justina blushed and replied through grinning teeth, "Tinder."