Speaking in Tongues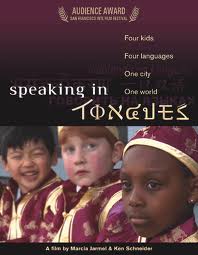 I was alerted to this film over at the Omniglot blog, and it looks really interesting.
Speaking in Tongues follows four children as they attend immersion school in San Francisco. The children are native English speakers but learn to communicate in Mandarin and Spanish, two of the most spoken languages in the world.
There's a commitment in America to remain an "English only" nation, with opinions on both sides of the fence. Some say bilingualism is essential to America's economic development and national security; others warn that national identity is at risk. According to the makers, the answers are in the movie – the children find that learning a second language "transforms their sense of self, their families, and their communities". The opportunity to become 'global citizens'.
It sounds like a really engaging film, I hope to get to see it soon!