The Gringo's Guide to New Year's Traditions in Latin America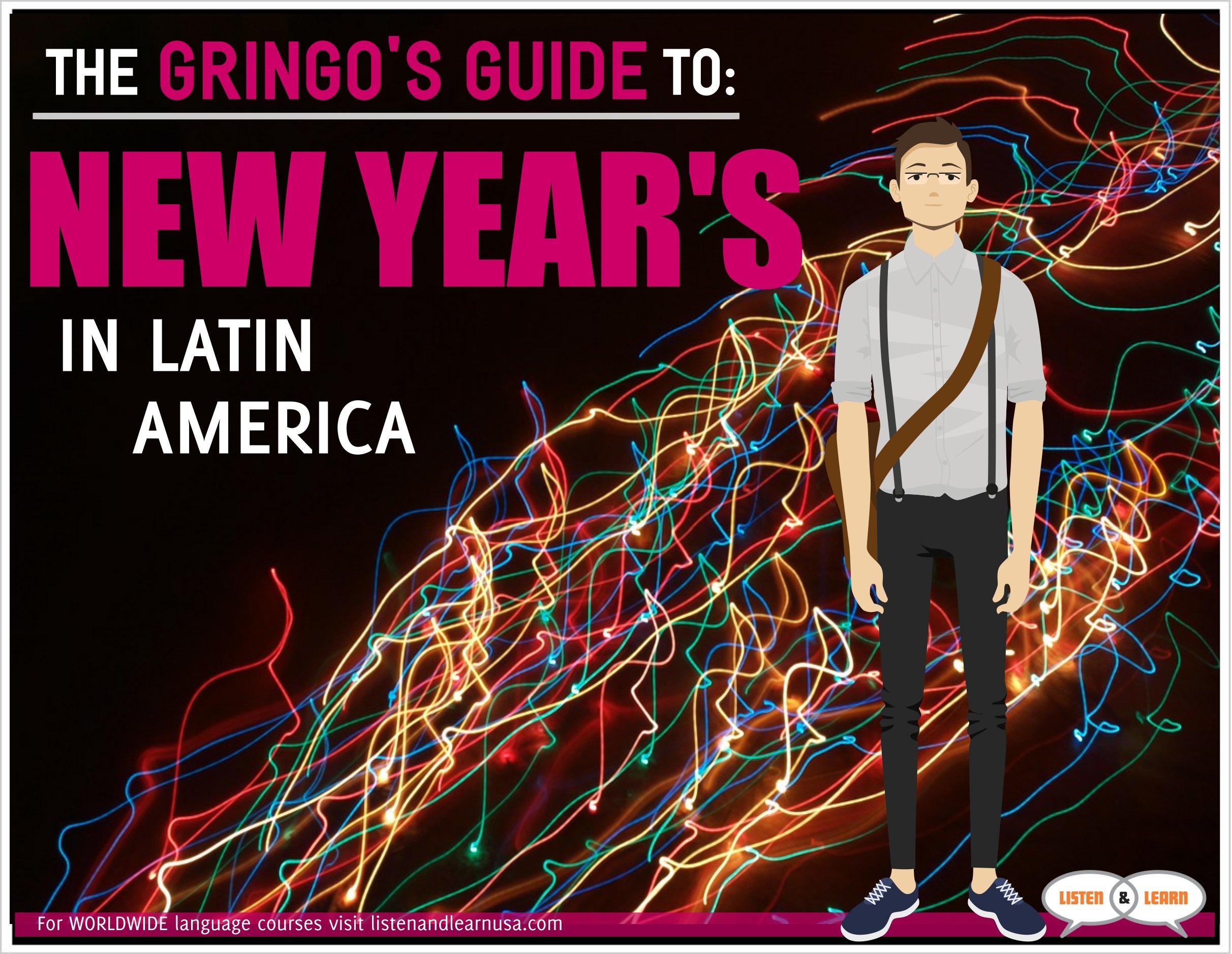 Every holiday comes with its own traditions around the world, and New Year's is no different. For most people in the United States, the festivities include watching the ball drop in Times Square, a final 60-second countdown, and kissing someone as the clock strikes midnight. With a glass of champagne in hand, everyone sings–or more realistically, hums along to–"Auld Lang Syne" to greet the new year. Many Americans spend the evening out at a bar or restaurant with their partner or closest friends, or even home snuggled up on the couch.
In Latin America, the list of traditions is both longer and much more eclectic. Don't be surprised to see massive burnings in the streets, fireworks blasting off in residential neighborhoods, people wandering around with suitcases in tow, and little old ladies sweeping their doorsteps late into the night. While every country has its own traditions and superstitions, much of Latin America shares a treasure trove of traditions that cross geographic boundaries essentially unchanged. If you'll be traveling somewhere in Latin America on Noche Vieja, you're sure to experience a number of wonderful traditions while on your journey.
Out with the Old…to Make Space for the New
The first thing you should know: New Year's is embraced by nearly everyone in Latin America, and the celebrations are big, loud, and boisterous. Few people are interested in staying home or skipping the festivities. Regardless of age, income, or gender, nearly everyone gets excited about New Year's and the opportunity to say "goodbye" to the old and welcome a new beginning. In some countries, they get rid of any bad feelings or memories from the last year by thoroughly cleaning the house on December 31. Others sweep the front porch at midnight, ridding their home of any negativity and ensuring a clean, fresh start to the new year.
While you're ridding yourself and your home of any suffering you experienced last year, be sure to remember the tears you shed and take proper measures to ensure you cry less this year. Especially when in Puerto Rico, where you'll want to throw a bucket-full of water out the window and bid good riddance to all that sadness.
This is Your Year for Love and Wealth
Next, it's time for some wishful thinking. Looking for love in the new year? In Ecuador, Brazil, and neighboring countries, you'll want to wear red underwear during your New Year's Eve outing. And if prosperity is of more interest to you, choose yellow instead. If you happen to be in Peru, your yellow underwear must be gifted, so don't even think about buying a pair for yourself (as if that would bring you economic gain!).
Be sure to plan your New Year's menu, including libations, accordingly. If in Chile, eating lentils at midnight is a must. In many countries, guests should also have 12 grapes to eat as the clock strikes midnight, or one for each month of the upcoming year. If you're feeling especially ambitious, make a unique wish as you eat each of the 12 grapes and your desires are sure to become reality…or more likely, at the very least. When it comes to drinks, champagne is the beverage of choice. Toss a real gold ring, or edible gold flakes, into each glass to bring prosperity to those who drink it.
Beyond the food, there are some other essentials every Latin American New Year's party needs. Burning a carefully selected candle can lead to tremendous results in the new year: yellow for wealth, green for good health, red for love, and blue for peace. Also be sure to have a pocket full of cash and grasp it firmly at midnight.
Enough Sitting Around–It's Time to Get Moving!
No party is complete without fireworks–and I don't mean watching them on TV. On New Year's you're likely to see hundreds of fireworks going off throughout the neighborhood (all while praying one doesn't land on the roof of your house or hotel and start a fire). If you happen to be in Panama, huge rag dolls that resemble local celebrities and politicians will be set on fire, with the resulting smoke taking away all of last year's evil spirits.
Now don't be fooled–your work's not done yet. Within minutes of the clock striking twelve, you'll need to get your walking shoes on and head out to the street with a suitcase in hand. Carry or drag it behind you as you stroll around the neighborhood, and you'll be positioning yourself for lots of travel this year.
New Year's celebration on Copacabana Beach, Rio de Janeiro
There you have it, an easy-peasy guide to some of Latin America's most universal and beloved New Year's traditions. Simply clean the house from top to bottom, throw a bucket of water out the window, pick the right underwear and candle, eat a dozen grapes and lentils at midnight, drink gold-infused champagne, light fireworks, and walk around the block carrying your luggage. Sounds like one heck of a New Year's Eve, right?
If a trip to Latin America is on your horizon, don't forget to get your Spanish or Portuguese skills in good shape. Contact us today to learn more about private and small group lessons near you and you'll be ready to ring in 2015 like a pro!
¡Feliz Navidad y Prospero Año Nuevo!