If you're paying a visit to Israel, learning some slang and common phrases can make bonding with locals that much easier. Slang is great to pick up when learning a new language, as it shows off languages' unique characteristics and idiosyncrasies. It also reveals location and cultural identities, as often slang springs from specific cities or countries. For example, Tel Aviv has its own unique slang. Start with these 10 common slang terms, a brief list among many more you'll discover as you learn Hebrew.

Sababa is one of the most widely-used slang words in Hebrew, and a standard response to many a question. It means "cool", "great" or "ok". Someone asks you how you are? Sababa. Want to go out for a movie? Sababa. Originally an Arabic word, Sababa was adopted by Jewish communities sometime in the 1980s and is now a blanket term for "Ok", "good", "no problem" and "cool".

This is a slang term common in Tel Aviv, and references something that is not to your liking, for example: "She suggested spending time with her boring uncle and I was like … pahot." The word originally means "less".

This word has a humorous connotation, and refers to a faux pas, or when one embarrasses oneself. Fahida is a small mistake, and one that should be brushed off. Fahida also has its roots in Arabic.

Hai Beseret can be translated as "living in a movie", and refers to someone who is not in touch with reality, a dreamer or slightly delusional.

Magniv means "awesome", and can be used in any sentence that references having a great time or a wonderful event. "We went to a music festival on the weekend – it was magniv." The original translation meant "sneaking", but the word evolved in the 1990s to indicate anything that is cool or fantastic.

Another way of greeting, ma nishma means "what's up?" The literal translation is "what will we hear?" but is hardly ever used this way anymore. A nice addition to your greetings vocabulary, if you want to vary up the traditional shalom.

Each of these are lovely terms of endearment for your significant other. Motek means "sweetheart", mami is "baby" and neshama is "soul".

Meaning "let's go!", yalla is the perfect response to an invitation to go out.

Legamre means "totally" or "absolutely", as in: "That restaurant was fantastic." "Legamre."

The literal translation of this charming phrase means, "what am I, a goat?" It's a protest of unequal treatment, so if someone offers your friend a free drink but not you, you can respond with ma ani, ez?
Traveling soon? Brush up on your Hebrew and broaden your slang dictionary with a series of Hebrew lessons! Test your level by clicking here.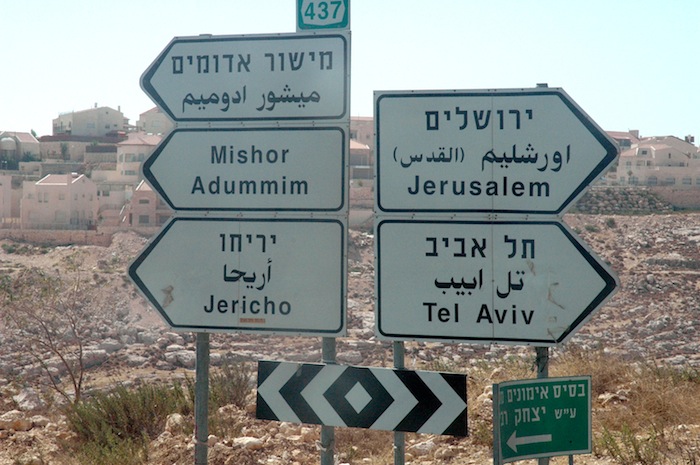 Israel roadsign via Justin McIntosh / Wikimedia