Why Learn a Foreign Language Online?
In today's world, technology has become increasingly prevalent in our everyday lives. From the way we communicate with each other, to the way we conduct business, it seems the reach of technology will only increase in the near future. This is certainly true in the fascinating world of language teaching and learning. With the advent of online language learning podcasts and apps, more and more people are opting to learn a foreign language online.
→Sign Up Now: Free Trial Language Lesson With a Native Teacher!←
And, although it may be easy for some people to be suspicious about technology and yearn for days gone past, after years of offering both face-to-face and online lessons we've come to the conclusion that online learning can be just as advantageous as face-to-face instruction. In this article, we'll explore some of the key benefits people find when they learn a foreign language online so that you can make a more informed decision about your language-learning journey.
Convenience
One of the great things when you learn a foreign language online is that it can be done at any time and from anywhere. Have a few minutes before your next meeting? Pull up your app and do a lesson. Taking a long flight overseas? Make use of that time by doing a couple of lessons on your laptop.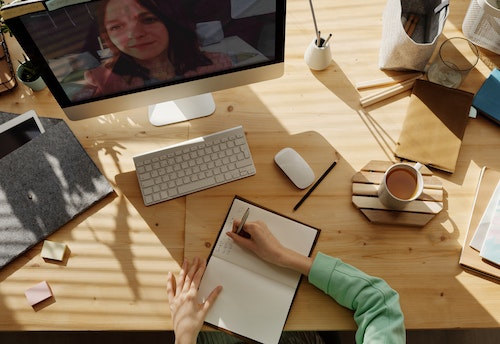 With online learning, even the busiest (or the laziest!) learners will have a hard time finding a good excuse to skip their lessons. This is what happened to Franco, an Italian student who took an online French course while he stayed for the summer in his grandparents' country home:
"When I decided to spend a few months with my grandparents, I thought I would have to put my French lessons online. But that wasn't necessary, which was lucky, cause I'd always wanted to learn a foreign language online and I was just so happy to have finally found the time.
As soon as I explained the situation to my teacher, she offered to change our weekly in-person meeting to online sessions. I was so happy, as I would have been devastated to lose all the progress I had made.
For me, the best part of learning a foreign language online is that, even when I'm feeling a bit tired or lazy, I can still do a lesson without having to leave my house."
Flexibility
On a related note, online learning is arguably more flexible than face-to-face instruction. Of course, when you do an online language course you can usually choose your own lesson schedule and study at a time that works best for you. But 'flexibility' in language learning is much more than just being able to choose a convenient time. When you take a private lesson online, you can choose not only when but also what you want to learn.
Do you want to spend an entire lesson on conversation practice? You got it. Do you want to focus on grammar today but do a bit of reading tomorrow? No problem. With online language learning, YOU are in control of your own learning experience, which doesn't happen as often when you attend a traditional language course.
Mary, a client from San Diego who is learning Spanish online, told us:
"I originally signed up for online Spanish lessons because I wanted to get extra practice for a university exam. However, once I'd passed the exam, the prospect of not having to wake up early for class anymore was very appealing!
So, I continued my lessons but with a new focus: to learn as much about the culture and the way of life in Mexico as possible. Because I am no longer constrained by a set curriculum, my online teacher and I are now able to spend each lesson exploring a different aspect of the Mexican culture, which was really interesting and enjoyable."
Multimedia lessons
A key advantage when you learn a foreign language online is that it makes use of different types of media such as podcasts, videos, songs, and even online games. This multimedia approach to learning keeps things fresh and makes the whole process more engaging.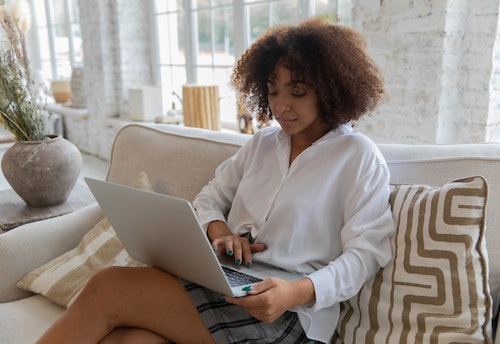 At Listen & Learn, our teachers use audiovisual materials, visual cues, virtual notes and PDF files that they share with their students through Skype, Meet or Zoom. And, unlike written notes or paper copies, these are materials that you can easily save, edit, update, and review before and after your lessons.
As Andrea, one of our French teachers, explains:
"I often use authentic materials like celebrity interviews, music videos, and online articles with my students. This way, they're not only exposed to the language but also to the culture of my country.  
For example, with my higher-level students, we recently watched a report about a march that took place in Paris to protest Rising Living Costs. Afterwards, we discussed the different points of view expressed in the report and how they compared to the opinions of my student and his family regarding similar issues in his country. It was a great way to teach him about current events in France while also exercising his listening and discussion skills."
→Sign Up Now: Free Trial Language Lesson With a Native Teacher!←
All in all, it is evident that learning a foreign language online has many advantages. It is flexible, convenient and, with the right materials, it can also be varied, fun and enriching.
While it is true that online learning might not be suitable for everyone (for some, in-person learning could never be replaced!), it is certainly worth considering if you are looking for an alternative to traditional language classes
At Listen & Learn, we work with qualified native teachers like Andrea who can tailor each lesson to your needs and interests. If you would like to learn a foreign language online with one of our star teachers, please contact us today!