A city as large as Buenos Aires is hard to describe. Since its foundation, it has always been the most important settlement in modern-day Argentina, as the country's seat of government, most important port and, therefore most prosperous city. It was because of the port that Buenos Aires always shared close ties with Europe, developing a very Parisian architecture that always catches one or two tourists off-guard. It was also thanks to the port that Buenos Aires became a melting pot of all the different nationalities that arrived seeking a better life up until the First World War.
Porteños (how the people from the City of Buenos Aires are called) are avid consumers of culture: the city boasts the highest number of libraries per capita in the world and offers a massive number of theaters, stages and cultural centers. Their love for culture might only be matched by their obsession with psychoanalysis, as they also have the world's highest number of psychologists per capita.
On top of this, the pulse of the city is measured by the street protests and festivals that keep roads always busy, by the number of clubs and bars that open and close everywhere in the city to cater for the porteño love affair with the nightlife, and by their rather insane but endearing relationship with soccer. And if all this is not enough, there are always tons of pizzerias and ice-cream parlors to choose from.
Why learn Spanish in Buenos Aires?
Quintessential combination of a city part Latin American and part European.

Unleash your sexier inner self by experiencing some tango first-hand in the multiple venues all around the city.

Treat your body with some of the best grilled steak in the world.

Learn what passion is really about by being part of the frenzy that soccer is.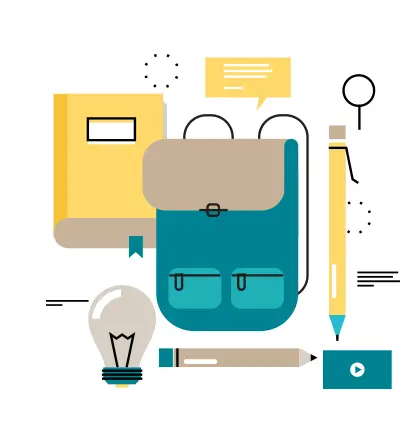 Language Schools in Buenos Aires: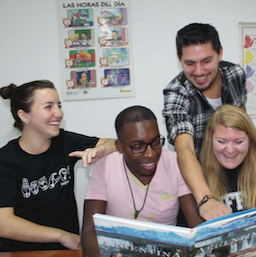 ECELA Buenos Aires, located in trendy and hip Palermo, offers quality Spanish learning that focuses on conversational skills and gives its students the chance to combine their programs with other ECELA schools in Argentina, Chile, and Peru.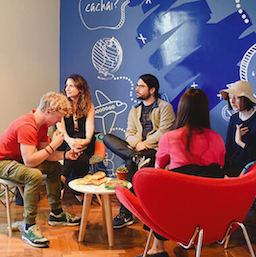 Don Quijote Buenos Aires offers a fabulous location, lots of extra-curricular and cultural activities and a chance to add internships or volunteering projects to complement the classes.
Travel
tips
When
Best time to go is February to May and September to November.
FYI
In late October-early November, the city landscape is at its best when jacaranda trees blossom literally covering the entire city in purple flowers.
Meet
Head over to Puerto Madero, a former port wasteland converted into a dazzling neighborhood where the rich and famous live and go out to dinner and where most international celebrities tend to stay.
Eva Peron's (Evita) was laid to rest in the famous Recoleta Cemetery and finding her where exactly is pretty easy: just follow the crowds of tourists flocking to her tomb.
See
History, politics, business and religion mix in the city's eclectic epicenter around Plaza de Mayo, framed with some of the best examples of Argentine architecture through the years.
Stroll down to the old port of La Boca, discovering colorful tin buildings where seamen used to live, tango performers along cobblestoned streets and, of course, the legendary Bombonera Stadium, home of Boca Jrs., one of the country's two main teams, where Diego Maradona used to play.
Experience Belle Epoque grandeur in Recoleta, where the rich lived in massive mansions in the past and rest now in equally-posh tombs at the nearby Cemetery.
Do
The International Tango Festival and World Cup is held yearly for two weeks during August. The best part is that most tickets are free, so don't miss your spot!
Every November, Argentina's status as a mecca for polo is reassured during the Argentine Polo Open Championship played in Buenos Aires.
During April, the cultural heart of the city is transported to the massive International Book Fair (Feria Internacional del Libro), which lasts around two weeks and attracts over 1.2 million people.
Eat
Beef is by far the star of any Argentine meal and the country's main culinary pride. The variety in prices, restaurants, styles and location is endless but chances are that, no matter where, it will always be the best beef any visitor will have tried.
Buy
The Ateneo Grand Splendid consistently ranks as one of the most beautiful bookshops in the world and rightfully so: located in an old five-story theater built in 1919, it still preserves the theater boxes and frescoes while drawing over a million people every year.
Testimonials
From all over the world
READ MORE
"I did a two-week program and loved it. The staff frequently organize activities after class, which is a great way to see Buenos Aires and meet the other students. The teachers did a really great job. My conversation instructor, Mariana, helped me put into use all the grammar I had learned in college. Thanks for a great program!"
---
Brian Hallett, USA.
"The people are very knowledgeable. My understanding of Spanish is much improved and I spoke Spanish in class. Having total immersion really gets you to learn faster. They take your needs into consideration and make it fun. There are several planned outings, so you feel like part of the group right away. There are students of all ages and from all over the world. I was an older student and still felt accepted and included."
---
Trenna Davis, USA.
"Fantastic place to learn Spanish. I spent 3 weeks and was amazed how much I learnt. The classes were small, the teachers were excellent, and the extracurricular activities were a nice touch."
---
Andrew Martin, USA
"Great school! The classes are small, well structured, and very accommodating"
---
Gowtham S.