Millions upon millions of Irish left their homeland in past centuries. This mass emigration brought their culture to every corner of the world. Nowadays, it is showcased profusely in Irish bars for example. However, Ireland is so much more than pubs decorated in green, white and orange: Celtic heritage, a unique language, legendary folklore, dramatic geography and yes, great beer and pub culture are also synonymous with the Emerald Isle.
Historically, Ireland's relative isolation in Europe made the island prone to few outsiders for millennials, thus allowing the locals to develop the fascinating Celtic culture. Later on, Ireland saw waves of Christians, Vikings, Normans, and British, from whom they gained independence only in 1922. All this has shaped Irish culture, music, and folklore, with some of its elements being recognized around the world, including shamrocks, leprechauns and other mythologic creatures.
Today, Ireland has grown to be one of the richest and most prosperous countries in the world. The country is home to vibrant cities like Dublin, where cultural and religious institutions rub shoulders with countless pubs, restaurants, and bars. Ireland's always-green countryside is never far, though, with scenic routes leading to gorgeous rolling hills, breathtaking cliffs, and fabulous castles.
Why learn

English


in Ireland?
Chance of incorporating some Gaelic (Irish), Ireland's co-official language along English.

Understand more about the Irish culture, which is widely known through pop culture and thanks to the millions of Irish emigrants around the world.

Ireland makes a great destination as it beautifully combines exciting cities, fabulous landscapes, and fascinating culture.

Surprisingly, you could even incorporate some of the several Slavic languages that are spoken, including Polish which is the second most-spoken language in the country.
Combine language with...
• drinking pints and pints of beer, particularly Guinness.
• touring centuries-old castles and medieval buildings, especially Blarney Castle and the city of Kilkenny.
• learning more about the millenary Celtic culture.
• discovering Neolithic constructions all around the Island, including many more yet to be found.
• watching Gaelic football and hurling, sports that are only played on the island.
• listening and dancing to Irish's traditional folk music and even learning to stepdance.
• joining the festivities of Saint Patrick's Day, Ireland's patron saint.
• getting blown away by the famous Cliffs of Moher, one of Ireland's most visited attractions.
Cities
Select one and see all available schools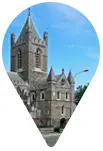 Dublin, hosting well over one-third of the Ireland's population, is renowned for its nightlife, its buildings, attractions and, maybe most importantly, being the home of the Guinness brewery.
"Classes are going on well. Maribel is an excellent teacher. She is is very kind, sweet and understanding. I feel grateful and thankful for finding such a compatible trainer."
---
Sarojini Kanagala
English course in Plano.
"Tom is flexible, assists me with business presentations and is always bringing new materials to the classes. I definitely recommend Tom as a teacher!"
---
Viviane Amaral
English course in Buffalo.
"My teacher is a great person, professional, kind and super flexible. She taught me everything I know in English! She also taught me the Canadian traditions and helped me to be more confident to talk to another ..."
---
Evelyn Erivwo
English course in Toronto, TransferEASE Relocation Inc..
"My daughter loves her teacher, so thank you for a finding a perfect fit."
---
Derek Zott
English course in Long Beach.
"The English courses are going very well – we chose Listen & Learn because it was one of the only courses in our area that met all our expectations. The classes are coming to an end and I'd like to thank you ..."
---
Raíssa Malaguth Girundi
English course in Baton Rouge.