Colombia represents diversity in every sense of the word. It is one of the world's few megadiverse countries and has more biodiversity per square mile than any other. It is also one of the most ethnically and linguistically diverse countries. Add the early arrival of Europeans in 1499 to the mix, and it is easy to understand why this country has such a rich cultural heritage and history. Colombian cities are an eclectic juxtaposition of architecture styles moving frantically to the rhythm of salsa music.
In spite of Colombia's assets, the country has long been undermined because of a guerilla conflict that extended for over 40 years. However, those violent times are gone and Colombia is rapidly claiming its well-deserved place as a world-class tourist destination. A country that includes Amazonian rainforests, rocky deserts, paradisiac beaches, stunning colonial architecture, some of the world's best coffee, vibrant nightlife, and some of the most charming and kind people should -and will- be one of the world's top travel destinations.
Why learn

Spanish


in Colombia?
Second most populated Spanish-speaking country in the world (after Mexico and before Spain).

Colombia's location brings its dialect close to both the Andean and the Caribbean varieties.

One of the widest arrays of climates in the world, making Colombia an ideal destination any time of the year.

Since the Peace Accords that ended a 40-year-long civil unrest, tourism is growing at a whopping 38% per year. So, go before everyone else catches on!
Combine language with...
• walking along the ramparts of the stunningly beautiful colonial walled city of Cartagena.
• living the ultimate urban tourism experience in Bogota's endless architectural contrasts, never-ending nightlife, famed music scene, and world-class shopping.
• sunbathing in the coastal tropical wonderland of Tairona National Park.
• sipping some of the best coffee in the world in centuries-old haciendas perched at the top of Colombia's fabulous central valleys.
• partying at the week-long Barranquilla's Carnival, the second largest in the world.
• seeing with your own eyes Medellin's dramatic transformation from Pablo Escobar's haven to cultural and design hub in only 20 years.
• swimming in San Andres and Providencia's pristine, turquoise waters surrounding the world's second largest barrier reef.
• dancing like never before in the country where salsa was born, as well as international music stars like Shakira and Juanes.
Cities
Select one and see all available schools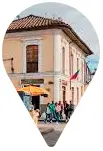 Bogotá, vast and multicultural, is a massive metropolis that thrives with cultural events, an underground music scene, street art, and world-class shopping mixed with both colonial and modern architecture, fabulous museums, and sweeping vistas of the city from atop the mountains that surround it. A true feast for the senses and the brain!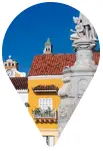 Cartagena, sometimes described as the reason why South America doesn't speak English, counts with massive defensive walls and castles that have defended it for hundreds of years. Today, Cartagena offers some of the best colonial architecture found in the Americas while surrounded by some of the most beautiful beaches of
"I'm really enjoying my Spanish lessons with Andrea - she's really great to work with and she's really helping with my accent!"
---
Jack Baker
Spanish course in Pittsburgh.
"My first Spanish lesson went splendidly and I LOVED my teacher! We already worked on a lot of material, and I have plenty of studying to do, but plan to make a great effort at it, and hopefully make her proud!"
---
Camille jim
Spanish course in Calgary.
"The lessons have been going very well!"
---
Harriet Robinson
Spanish course in Edmonton, Human Resources Manager, Emeco.
"Elizabeth, my Spanish teacher, is very encouraging and dedicated. She has helped me a lot getting better in class. Her teaching method is good and I made good progress."
---
Keven Narrainen
Spanish course in Long Beach.
"I am very happy with Carlos, my tutor, and his attention to my needs and careful preparation of each session. I have found the course extremely worthwhile - time now to put it into practice!"
---
Ray Brooke
Spanish course in Ottawa.