The United States of America is a superpower that undeniably influences every aspect of life all around the world: media, culture, science, industry, finance, and the list goes on and on. Global pop culture has been largely shaped by the US and several American landmarks are among the most recognizable ones in the world.
But the United States cannot be reduced to just its impact. It is a massive and diverse country, full of cultural and regional differences. Its size makes it the fourth largest country in the world and its natural attractions are well distributed throughout, from swamps, forests and deserts, to mountains, lakes and waterfalls. Its complex history includes several different native peoples, European colonization, African slavery, involvement in several world conflicts, and mass immigration. The "American Dream" has attracted people from all four corners of the world, making the US a true melting pot. Its economy has been the world's largest for decades and, therefore, infrastructure is well developed making it a fairly easy country to travel around, despite the long distances.
American cities like New York City, Miami, and Los Angeles, although very different and far from each other, are touristic capitals within the country itself and provide an ever-growing list of activities and landmarks. At the same time, they are also fantastic bases from where to discover stunning natural environments. The balance between sprawling metropolises and spectacular landscapes truly makes each destination in the US a small universe in its own right.
Why learn

English


in United States of America?
American English is the most widely spoken variety of English in the world.

Media, sciences, and the internet are vastly influenced by American English.

The US's variety of landscapes and cities provides unlimited destinations for every traveler.

The English teaching industry is super well-developed, helping tens of thousands of students every year.
Combine language with...
• rubbing shoulders with movie stars in Hollywood and Los Angeles.
• walking up and down the legendary streets of New York City.
• sunbathing in tropical paradises like Florida or Hawaii.
• hiking famous national parks like Yellowstone and Yosemite.
• gambling and partying non-stop in fabulous Las Vegas.
• skiing, golfing, fishing, or practicing any imaginable sport in the US's super varied landscapes.
• witnessing the wonders of the impressive Grand Canyon.
• following the traces of history and the massive immigration that made the US a cultural melting pot, from the Spanish influence in California to the Irish influence in Chicago.
Cities
Select one and see all available schools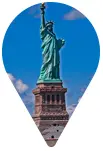 New York City, considered by some as the unofficial capital of the world, the city is a tiny country of its own. NYC features an enormous multiculturalism and some of the most recognized landmarks in the world, thanks to being the world's most filmed location. Aside from tourism, the city is also home to the biggest number of nationalities in the world.
"I chose Listen & Learn so I can request the lessons I want and change the teacher if necessary. My English teacher is good and we often role-play in class."
---
Tomoka Nishide
English course in Plano.
"My English classes have helped me perform better in my job. Nate has been really supportive and provided me with lots of examples to increase my vocabulary."
---
Brenda Perez Cano
English course in Cleveland.
"Classes are going very well and I am happy with Diana as my English teacher."
---
Ann Parente
English course in Online, Avangrid.
"It was great. The English teacher is very professional. We had a clear class with slow conversation."
---
Whellington Amorin dos Santos
English course in Phoenix, COSENTINO NORTH AMERICA.
"Things are going very well. Jef is a very good teacher."
---
Fernanda
English course in New York, Enel Green Power North America Inc.