How to describe Peru in one word? Diversity. Peruvians are a mix of ancient settlers, Spanish conquistadores, Asian immigrants, and everything in between. Peru's geographical variety makes it a paradise for adventurers and hikers. Its cuisine is a true reflection of a rich land and the people that live in it, ancient traditions, and modern trends. Traces of ancient civilizations intertwine with colonial architecture and glass skyscrapers. Yet, no description of the country would be complete without mentioning the legacy of the Incas, the largest empire in the Americas before colonization, and their famed jewel: the Machu Picchu. However, to be fair, different peoples have been leaving their marks in Peru for over 5 millennia, including the mysterious Nazca lines, enigmatic maze-like temples in the jungle, and the largest pre-Columbian adobe city in the world. On top of all that, the landscape is just as diverse, boasting coastal deserts thriving with marine life and surfers, thick jungles housing the roaring origins of the Amazon river, and the largest lake in South America where natives still live on temporary floating reed islands.
Peruvian culture is imprinted by both their Incan and Spanish past, and aside from Spanish, a set of native languages are still significantly used and featured country-wide, making any traveler's experience even more enriching.
Why learn

Spanish


in Peru?
Peru has one of the most modern touristic infrastructures in the region as it has the fastest-growing tourism industry in South America.

Lima is a big air travel hub in South America, making travelling to the city and country rather seamless.

Peruvian Spanish is influenced by ancient languages, such as Quechua and Aymara, increasing every visitor's chances of learning two of the most spoken indigenous languages in the Americas.

The variety of the ethnic background ensures a massive diversity in culture and cuisine.
Combine language with...
• surpassing your imagination as you get the first glimpse of Machu Picchu.
• tasting the incredible variety of flavors that define Peruvian cuisine, including the famous ceviche.
• being part of ancient traditions and folklore in Valle Sagrado and Ayacucho.
• defying yourself as you hike along the world famous Inca Trail.
• flying above the Nazca Lines to discover the mystery that surrounds them.
• setting foot in the massive Amazon basin.
• paragliding by the dropping cliffs along deserted coasts and populous cities.
• marveling with the beautiful colonial architecture in Lima and Arequipa.
Cities
Select one and see all available schools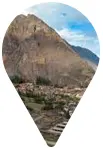 Cusco, a city as unique as its origins, is the gateway to the Andes region that was once the stronghold of the Incas. Cobblestoned streets, ancient markets, baroque churches with Incan foundations, and the start of the Inca Trail leading to Valle Sagrado and Machu Picchu will dazzle anyone seeking a dynamic destination with a thriving nightlife.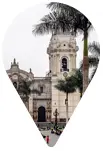 Lima, founded by conquistador Francisco Pizarro in 1535, offers a glimpse of the past with its stunning colonial architecture while its fast-growing economy manifests in the shape of modern skyscrapers. It is the perfect background to discover the city's world-renowned status as a gastronomy capital, with an ever-growing list of chefs and restaurants ranked as the best in the world.
"My lessons are wonderful! Thanks ..."
---
Niki Lambrou
Spanish course in Online.
"Elizabeth, my Spanish teacher, is very encouraging and dedicated. She has helped me a lot getting better in class. Her teaching method is good and I made good progress."
---
Keven Narrainen
Spanish course in Long Beach.
"Alejandro is a great teacher and is very passionate about our learning; we really appreciate him. We are happy with the material and the lessons."
---
Derek Groen
Spanish course in Cambridge.
"Everything is going very well with our Spanish classes! Ana has been great and we are leaning at a good pace."
---
Brad Zelenyt
Spanish course in Hamilton, Stanpac.
"I'm very pleased with our teacher. She is indeed a good fit, and is keenly interested in my progress, which I appreciate. She's extremely intelligent and a great teacher."
---
Wendy Hannam
Spanish course in Toronto.