The United Kingdom of Great Britain and Northern Ireland is the base of what was once the largest empire in history, encompassing about one-fourth of the world. As a colonial power, the UK was the source of the cultural dominance that would be imposed in all its territories, leaving behind English speakers in all four corners of the globe.
Even though the days of the empire are gone, English has become the first true global language. As such, students flock to the UK to learn the language, making it the world's most developed language learning destination. Interestingly though, English is not homogenous as there are considerable accent variations even between rather short distances. London's English is clearly the most influential, but there are socioeconomical and geographical variants even within its metropolitan area, such as Cockney.
Aside from accents, the UK has so much more to offer. Breathtaking landscapes and a gorgeous countryside intertwine with historical landmarks, including hundreds of castles, manors, and palaces. Some of them are known around the world, especially those related to the Royal Family. On top of all that, the UK is a superpower in commerce, finance, fashion, and media. With so many things to see, it is no surprise that the UK is the 6th most visited country in the world.
Why learn

English


in United Kingdom?
There is a long tradition of teaching English as a second language, with various standards and regulations.

Along with American English, British English is one of the most sought and taught dialects.

In contrast to American English, which is getting more and more influenced by Spanish, British English is obviously closer to the source and therefore, the purest.

Its location within Europe makes the UK a super convenient base to visit the rest of the continent.
Combine language with...
• discovering a true global city like London, with all its history, traditions, and contrasts that define it.
• walking down the same hallways as some of the greatest minds in history did in the university cities of Oxford and Cambridge.
• unravelling the mysteries surrounding Stonehenge.
• following the steps of famous authors, from Shakespeare and Dickens to Agatha Christie and J. K. Rowling.
• immersing in fairy tales or horror movies by visiting castles and dungeons all around the country.
• going to the Scottish Highlands and Loch Ness in the quest for its Monster.
• drinking ale, beer and scotch or, if not seeking alcohol, perhaps a cup of glorified tea will do.
• touring around in itineraries marked by media like Harry Potter or Game of Thrones.
Cities
Select one and see all available schools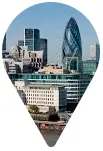 The world's first true global city, is a huge multicultural metropolis surrounded by some of the best-known landmarks in the world, like the Tower Bridge and the Big Ben. Although London thrives with culture, including palaces, castles and museums, the city pulse is frenetic as it is an international center for fashion, education, finance, aside from its never-ending nightlife.
"My teacher is a great person, professional, kind and super flexible. She taught me everything I know in English! She also taught me the Canadian traditions and helped me to be more confident to talk to another ..."
---
Evelyn Erivwo
English course in Toronto, TransferEASE Relocation Inc..
"The English courses are going very well – we chose Listen & Learn because it was one of the only courses in our area that met all our expectations. The classes are coming to an end and I'd like to thank you ..."
---
Raíssa Malaguth Girundi
English course in Baton Rouge.
"My first English lesson went well. Anke is very understanding, attentive and patient, which is important to me."
---
Esra Boran
English course in Mississauga, Schneider Electric.
"The lesson went very well! We are looking forward to the next one."
---
Michele Linehan
English course in Boston, Enel Green Power North America Inc.
"I chose Listen & Learn so I can request the lessons I want and change the teacher if necessary. My English teacher is good and we often role-play in class."
---
Tomoka Nishide
English course in Plano.