Chile is 4,000 kilometers long and narrow country squeezed between the Andes mountains and the Pacific Ocean. Chile displays an incredible variety of landscapes, climates, cuisines, and cultures. The country's incredible contrast is showcased by the Atacama Desert, the world's driest desert, cold and lush rainforests, the world's highest volcano, and the deep oceanic trench that is the source to the country's exquisite and remarkable seafood.
Chile is consistently ranked as the safest and most stable country in Latin America. It also has high economic standards and free-market policies. All these reasons make the country a very balanced destination when it comes to combining cities and nature providing Chile with a very well-developed infrastructure, which in turn gives travelers many options and destinations for every budget.
Chilean Spanish is quite distinct as it has a particular inflection, rhythm, and slang that makes it unique amongst other Latin American dialects.
Why learn

Spanish


in Chile?
Several publications have listed Chile atop their must-see destinations, the latest being Lonely Planet in 2018.

Chilean Spanish has unique traits that ensure that once mastered, any other Spanish dialect will be a piece of cake.

Chile is safe, easy to travel, modern, progressive, and trendy.

The language is heavily influenced by Argentine Spanish, making a hop across the Andes even easier.
Combine language with...
• stargazing in the Atacama Desert, the driest place in the world.
• wine tasting in the Central valleys where centuries-old wineries produce some of the best wines in the world.
• shopping until you drop in Santiago.
• skiing in world-class resorts just a short drive from Santiago.
• relaxing in the many hot springs with breathtaking views of the Andes, many of them conveniently located next to sky resorts.
• hiking, trekking, kayaking, or climbing your way through Patagonia, any adventurer's dreamland.
• climbing atop the tallest building in Latin American, Santiago's Costanera Center.
• seeing nature at its best in Torres del Paine National Park, boasting waterfalls, glaciers, and magnificent mountains.
• flying to Easter Island and trying to solve the mysteries behind the moai megalithic statues.
Cities
Select one and see all available schools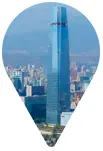 Santiago is the country's capital and largest city. Ski resorts, hot springs, magnificent beaches, endless number of vineyards, and international astronomical centers are all located within driving distance. At the same time, Santiago offers colonial and super-modern architecture, a thriving nightlife, and world-class shopping centers.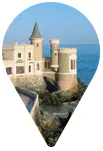 Viña del Mar, the summertime epicenter of Chile, swells with beach and culture lovers alike. Aside from gorgeous beaches, the city is located next to picturesque Valparaíso and hosts Latin America's top music festival: the Viña del Mar International Song Festival.
"Carmen is an excellent teacher and I am very happy with my lessons thus far."
---
Victoria Kedaitis
Spanish course in Chicago.
"The class was really good. Alejandro, our Spanish teacher, was very nice and he hit the ground running with us. We were very impressed with him."
---
Derek Groen
Spanish course in Cambridge.
"I am very happy with Carlos, my tutor, and his attention to my needs and careful preparation of each session. I have found the course extremely worthwhile - time now to put it into practice!"
---
Ray Brooke
Spanish course in Ottawa.
"Alejandro is a great teacher and is very passionate about our learning; we really appreciate him. We are happy with the material and the lessons."
---
Derek Groen
Spanish course in Cambridge.
"My first Spanish lesson went splendidly and I LOVED my teacher! We already worked on a lot of material, and I have plenty of studying to do, but plan to make a great effort at it, and hopefully make her proud!"
---
Camille jim
Spanish course in Calgary.