Argentina's fourth-largest city is well known to every wine connoisseur in the world: Mendoza and its surrounding area is the center of Argentina's wine-making industry, the fifth largest in the world.
Originally founded in 1561, Mendoza was key to the 1810s South American independence efforts. José de San Martin, Argentina's national hero, governed the area and commanded the army which would later free Chile and Peru from Spanish control. In 1861, Mendoza was largely destroyed by an earthquake. This resulted in a comprehensive redesign of the city, which included beautiful parks and squares, wide avenues, and irrigation channels throughout, transforming Mendoza into a very leafy city. At the same time, European settlers started to arrive, resulting in a cohesion of architectural styles throughout the city, and a boom in grape and olive production in the surrounding area.
Today, Mendoza is considered one of the nine great wine capitals of the world and much of the city's tourism is centered around its grapes and wine: hundreds of wineries, eco-friendly lodges with wine-spas, wine tours, wine museums, and even one of the largest harvest festivals in the world. But Mendoza is also a hub for adventure sports, including white water rafting, trekking in the Andes, mountaineering the Aconcagua (the world's tallest mountain in the Southern and Western Hemispheres), skiing, and horseback riding.
Why learn Spanish in Mendoza?
Due to its proximity to Chile, Mendoza's dialect incorporates some traits of both Argentinian and Chilean Spanish, meaning the student will largely be able to understand both.

The wine region surrounding Mendoza is larger than that of New Zealand and Australia combined. If you like wine, you will be in the right place!

Although a large city, Mendoza's location by the mountains and rural surroundings makes it a more relaxed metropolis than, say, Buenos Aires.

Mendoza's regional geography make it ideal for many adventure sports, including skiing, white water rafting, and climbing (including the Aconcagua, the highest mountain in the world outside the Himalayas).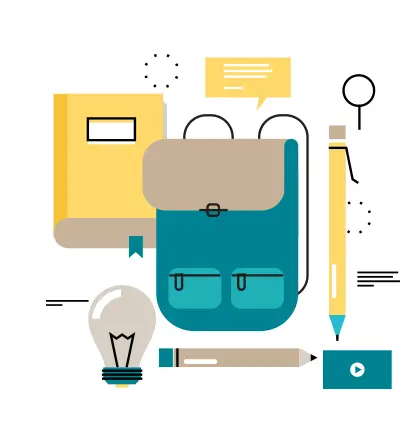 Language Schools in Mendoza: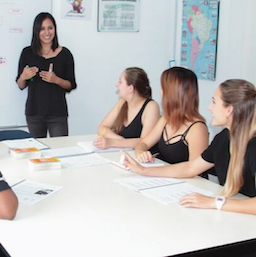 ECELA Mendoza, with 10 years of experience teaching Spanish to students, offers a rich variety of activities outside the classroom, a truly remarkable building with equally amazing location and view, and an immersive program to learn Spanish while exploring the city and its surroundings.
Travel
tips
When
Year round, although some extracurricular activities are better at certain times of year (remember, seasons are inversed in the Southern Hemisphere). Be mindful of very hot but dry summers.
FYI
Although a large city, the siesta, or afternoon nap, is highly observed in Mendoza, particularly in the summer. Expect most stores to be closed for a few hours from midday and restaurants to open for dinner around 9 pm!
Meet
The highest elevation directly overlooking Mendoza is the Cerro de la Gloria (Glory Hill) and is crowned by the massive memorial monument to the Army of the Andes and its heroic figurehead, José de San Martín.
Don't miss the Vendimia Festival, attended by some of Argentina's most important artists, and its main attraction, a beauty pageant that elects the country's next Queen.
See
There are hundred of wineries and thousands of acres of vineyards around Mendoza, especially towards the south of the city in Chacras de Coria, Maipú, Luján de Cuyo, and beyond.
Nearby, Aconcagua is the tallest mountain outside the Himalayas, but you don't have to be an experienced climber to see it: there are plenty of tours and less-demanding trekking options to see the mountain up close.
Mendoza's view of the Andes is enhanced by the carefully-designed General San Martín Park, a landscaping extravaganza with lakes, museums, stadiums, monuments, and the ideal viewpoint of the city.
Do
The Fiesta Nacional de la Vendimia (Grape Harvest National Festival) is THE summer event in Argentina. Typically starting the last Sunday of February, hundreds of thousands of people attend the parades, beauty pageant, dozens of shows, and firework display. The festival is the second-largest harvest event in the world.
April 17th is the Malbec World Day, an initiative to promote Malbec—Argentina's signature grape—with free wine tastings and events around the world. Don't forget to hit the wineries that day!
Nearby Tunuyán hosts the Festival Nacional de la Tonada (National Tune Festival) every mid-February and mixes traditional folk singing and music with the election of the local representative for the main Vendimia Festival.
Eat
Carne a la olla is a meat (remember, Argentina is known for its meat) stew cooked in wine (obviously!). It is typically be accompanied by tomaticán, a French-influenced Andean stew of tomatoes and onions.
Buy
Due to the region's dryness, grapes use few-to-no chemicals to avoid mold, making Mendoza one of the world's best places to buy organic wine.
Testimonials
From all over the world
READ MORE
"I only spent a week at ECELA Mendoza. It was the best experience of my trip. The staff are very friendly and have created a home away from home. They make it easy to feel part of the culture. I had my own housing, but I am sure it would have been lovely to have them arrange it. The school is in a beautiful neighborhood and Mendoza is a great town. Oh yes, and I learned a lot of Spanish, completely tailored to my level and needs. Everyone should take classes there."
---
Gaynor Keefe, UK.
"I had a lovely time in Mendoza! ECELA is a great school with a familiar atmosphere, excellent teachers, and interesting excursions! I really recommend the school to anyone who would like to get to know the culture of Argentina and who would like to learn Spanish in a wonderful atmosphere! Cheers."
---
Philip Stettler, Germany.