The sole mention of Riviera Maya conjures an image of blissful beaches. But the stretch of land south of Cancún is so much more than just a breathtaking coast: ancient Mayan ruins, underground rivers, world-class shopping, mega rich marine life, top-notch golf courses, amazing diving and snorkeling spots, sprawling eco-theme parks, and a never-ending variety of resorts, restaurants, boutiques, bars, and nightclubs.
Since Cancún started receiving international tourists in the 1970s, Riviera Maya became a beacon for seekers of secluded beaches and adventurous activities. In time, the whole area was developed along the road from Cancun to Tulum (roughly 100 km / 62 miles), and finding transportation to every beach, destination, and attraction is now a breeze. A succession of towns and massive resorts line the beaches and sea inlets while archaeological parks dot the entire area, making any holiday in the region a truly remarkable experience with activities inland, underground, by the ocean, and underwater.
Why learn Spanish in Riviera Maya?
What better way to learn than to mix Spanish classes with idyllic, sandy beaches?

Access a wide array of extracurricular activities, ranging from shopping to visiting Mayan ruins, and from traditional performing arts to all kinds of water sports.

The perfect base to explore Mexico, Central America, or the Caribbean.

As a tourist hotspot, there is every kind of cuisine imaginable.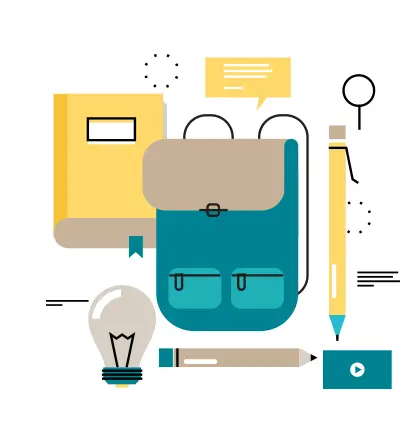 Language Schools in Riviera Maya: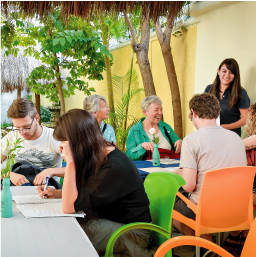 International House Riviera Maya, located off Quinta Avenida, the pedestrianized epicenter of Playa del Carmen, only three blocks from the beach and four blocks away from their own student residence and apartments, it couldn't be a more perfect location to learn Spanish.
Travel
tips
When
Best time to go is November to May. Hurricanes may affect the area from August to October.
FYI
Riviera Maya extends around 40 kilometers (25 miles) south of Cancún. Moving around and between the resorts and towns is cheap and straightforward.
Meet
With the region so close to the US, and with frequent and easy flights, it is common to spy Hollywood's stars around Riviera Maya's luxury hotels and upscale shopping areas and restaurants.
See
The Mayan ruins of Tulum are the most important historical landmark of the area, perched atop of a cliff and overlooking the ocean.
Several eco-theme parks showcase some of the best Mayan and Mexican culture, sea side biodiversity, and beach entertainment that Latin America has to offer.
Both Cancún and Riviera Maya have made a name from their beaches but also for their famous nightclubs, so you should try to experience at least one.
Do
Every late May/early April, the Cancún-Riviera Maya Wine and Food Festival attracts hundreds of foodies and wine connoisseurs to enjoy some of the finest creations from the top chefs and winemakers in the world.
The Riviera Maya Jazz Festival attracts tens of thousands of fans every last weekend of November for some of the best jazz in the world. Must not be missed!
Head over to nearby, world-famous Chichen Itza during the Spring or Fall equinox to see impressive astronomical displays.
Eat
Mexico is full of delicious, yet regional dishes and Riviera Maya is no exception: cochinita pibil is their most famous addition to national cookbooks and consists of highly-seasoned pork, slow-roasted and wrapped in banana leaves.
Buy
If you are looking for the perfect souvenir to bring back home, then search no more! The Quinta Avenida (5th Avenue) is by far the most important shopping area of all Riviera Maya. Block after block is packed with stores stocking anything you could want, from tequila to a traditional take on haute couture.
Testimonials
From all over the world
READ MORE
"I had such a great time here! The school and accommodations were great. Everyone was kind and helpful! I can't wait to go back."
---
Kait Lynn, USA.
"A great experience all round. Excellent location and facilities, both at the school and the residence. I really appreciated how the Spanish speaking staff at the residence were integrated into the language learning experience. They [are] the perfect 'public' [with whom] to test out your newly developed skills. Patient, kind, and forgiving of mistakes. Great place, with even better people. I'll be going back. Oh, and the tour discounts they get are great value."
---
Ian Smith, Canada.